Family of murdered Indian Anuj Bidve heads for Britain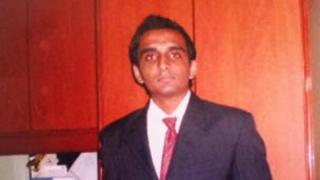 The family of murdered Indian student Anuj Bidve has left the city of Pune for Britain to bring back his body.
Father Subhash Bidve, mother Yogini Bidve and brother-in-law Rakesh Sonawane are travelling to London before heading on to Manchester, the family said.
Lancaster University student Anuj Bidve was shot in the head at close range in Salford on 26 December.
Kiaran Stapleton, 20, is accused of the murder and is remanded in custody.
Anuj Bidve, from Pune in western India, was doing a postgraduate course in microelectronics.
The 23-year-old had been visiting friends in Greater Manchester over the festive period.
As they walked along Ordsall Lane, Salford, at about 01:30 GMT on 26 December, Mr Bidve was shot. He died later in hospital.
Vigils
Father Subhash described Anuj as a "loving son, a super-caring brother and first and forever a friend for many".
He told the BBC's Andrew North in Pune that his son was already doing advanced research into micro-chips to help heart patients. Anuj wanted to return to India, although he also had a possible job offer in Switzerland.
Subhash Bidve had been critical of the way British and Indian authorities initially handled the case after learning of his son's death on social-networking site Facebook.
Earlier this week, two senior officers from Greater Manchester Police travelled to India to meet the Bidve family in Pune.
Chief Supt Russ Jackson said the officers had been able to "fill in some of the gaps in understanding" about Anuj Bidve's death.
"The purpose of the visit was to speak with the family of Anuj and to support them in what must be one of the most difficult times in their life.
"Our role has been to meet the family, to explain about the case so far and of course to go through the last moments of Anuj's life with them as we understand them to be from the investigation so far."
He said: "Anuj's family are very understandably keen to have Anuj returned to them."
The UK coroner was unable to release the body to the family until after a second post-mortem examination had taken place, on Tuesday.
On Monday evening a crowd of about 200 people had gathered in Ordsall Lane, Salford, to hold a candle-lit vigil for Mr Bidve.
A candle-light vigil was also held in Delhi.
Kiaran Stapleton appeared at Manchester Crown Court via videolink from prison on Tuesday. He was remanded until the next hearing on 20 March.
At the magistrates' court on Monday, he referred to himself as "Psycho Stapleton" when asked his name.
Five people have so far been arrested in connection with the inquiry. Three teenagers, one aged 16 and two aged 17, have been released on bail.
A 19-year-old man has had his bail "cancelled", police said.