India's 'Swami Army' brings Bollywood colour to cricket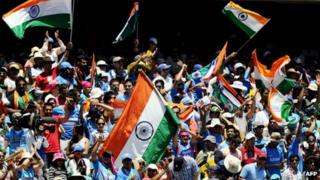 India's "Swami Army" has massed in Sydney for the second cricket Test in support of Mahendra Dhoni's side in its clash with Australia.
Swami is a Sanskrit word that means teacher or guru, and the members of the army say they are committed to bringing a bit of Bollywood glamour to the often staid world of international cricket.
The supporters' group was founded about eight years ago by Australian-born Indians, who have mixed their love of sport with a boisterous appreciation of Bollywood theatrics.
They have commandeered a section of the Sydney Cricket Ground, festooning it with banners and with saffron, white and green colours of the Indian flag.
The noise of hundreds of Indian fans in customised blue jerseys reverberates around this famous old stadium, which is celebrating its 100th Test match.
'Different beast'
To the tune of Waltzing Matilda, Australia's most memorable folk ballad, they sing themselves hoarse celebrating their cricketing idols.
"Sachin Tendulkar, Sachin Tendulkar, Sachin Tendulkar he is our god," they bellow as a lone drummer rallies the troops.
"And he bats, and he bats and he scores another century, Sachin Tendulkar he is our god!"
While they may lack the numbers and cutting banter of their celebrated English counterparts, the Indian contingent is no less passionate.
"We are a different beast to England's Barmy Army," says Amit Grover, a 30-year-old lawyer from Sydney and one of the founders of the Swami Army.
"We are very much more family-friendly. It is more about bringing Bollywood to the cricket.
"The Barmy Army is fantastic in the way they devise their chants. I don't know if I'm as witty as them."
Amit says the Swami Army is "going global".
"We have regiments set up in the UK, US, Singapore and the United Arab Emirates, so this isn't just an Australian phenomenon. It is going to be worldwide and global."
Amit's brother, Sumit, is one of the organisation's key lieutenants, who has worked with Australia's cricket authorities to enable its members to sit together. They have created a small but unmissable sea of light blue at the beloved venue in Sydney.
"We tend to switch into Bollywood mode when we're not doing that well," Sumit admits, as India creaks under the weight of another Australia onslaught.
"Normal supporters tend to be fickle when they are doing well and jump on the bandwagon but when they're not doing that well they tend to go home.
"That is what the Swami Army is all about. Let's create that culture of supporting the team no matter what they are going through," explains Sumit.
'Religion'
Sitting beside Sumit is his wife, Shweta, whose family came to Australia from Delhi via South Africa.
"Most of us who have formed the Swami Army are Australian-born Indians, so we do value our Australian culture but it is always good fun when the Indians come down here to support the team," she says as the massed ranks again burst into song.
Australian fans do mostly appreciate the colour and verve the Indian contingent brings to matches. So do Kelly and Bryn, British tourists from Surrey, who are soaking up the Sydney sun and enjoying the Swami Army's histrionics.
"They are good fun. It is a nice atmosphere to have but I don't think they can really compete with the Barmy Army," says Kelly.
"They got a lot of original songs too, so it's great to hear them," adds Bryn.
The Sydney Cricket Ground would shake to its ancient foundations if batting legend Tendulkar could notch up his 100th international century during this second Test.
So far, though, his team has struggled, losing the first Test in Melbourne and being skittled out for just 191 in its first innings here. But the fans are keeping the faith.
"Cricket is a religion in India," says fan Anil Kumar.
"You don't stop supporting your religion when things get tough. You know, things get tough on the field and we just get louder and prouder. So we absolutely love our cricket and we'll never stop loving it."