India building collapse in Delhi kills five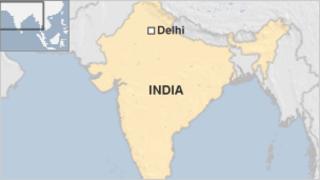 The roof of a building has collapsed following a gas cylinder explosion in the Indian capital, Delhi, killing five workers.
At least four others were injured in the incident in the Mundka area in the city's north-west.
The explosion took place at 07:25 local time [01:55 GMT] when some of the labourers were cooking, police said.
The one-storey structure was weak and collapsed soon after the explosion, they said.
The injured have been taken to the Sanjay Gandhi Hospital.
Building collapses are not uncommon in Delhi.
In September, five people were killed and 25 injured when a building collapsed in the crowded Chandni Mahal area.
In November 2010, at least 67 people died and 100 were injured in a five-storey building collapse in the east of the city.
That disaster was blamed on shoddy construction, extra storeys allegedly being added illegally to the structure and water seepage from the nearby Yamuna river.