India warns traders after dispute in China's Yiwu city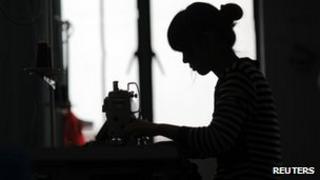 India has warned its businessmen they are not safe to trade in the Chinese city of Yiwu after an angry dispute and a courtroom fracas there.
An advisory on India's Beijing embassy website says businessmen can be "mistreated" in Yiwu and have "no guarantee of legal remedies".
The warning came after India said one of its envoys was "manhandled" and collapsed at a volatile court hearing.
Chinese traders were demanding money owed by an Indian company.
Two employees of the company, Deepak Raheja and Shyamsunder Agrawal, are under police protection.
The Press Trust of India quoted Mr Raheja as saying they were under police guard at a hotel that was surrounded by a large crowd of locals.
The pair have been held hostage by local traders for two weeks for non-payment of dues by their company, whose owner has allegedly fled the country.
PTI says there is a strong Indian business tradition in Yiwu, with more than 100 Indian businessmen living there.
'Inadequate protection'
The strongly worded statement on the embassy website says that "Indian businessmen are cautioned to stay away from Yiwu".
It adds: "Indian businessmen/traders can be illegally held under detention and mistreated by Chinese businessmen there.
"Based on experience, there is no guarantee that legal remedies will be readily available.
"Furthermore, in case of disputes arising, experience suggests that there is inadequate protection for safety of persons."
Delhi says Mr Balachandran was denied medicine and collapsed as he tried to secure the release of the two Indians in the courtroom in Yiwu on 31 December.
Mr Balachandran, attached to the Shanghai consulate, is a diabetic and fainted. He was taken to hospital in a semi-conscious state.
On Sunday, he was moved to a hospital in Shanghai and his condition was said to have improved.
An Indian government source told Reuters news agency: "We have taken it up pretty strongly with the Chinese, that this is no way to treat a diplomat, that he should be allowed access to medication."
China's charge d'affaires in India, Zhang Yue, said: "I believe both governments will handle this properly; this seems to be a civil-civic commercial dispute.
"We are trying to figure out what happened."