India toxic alcohol 'kills 17' in Andhra Pradesh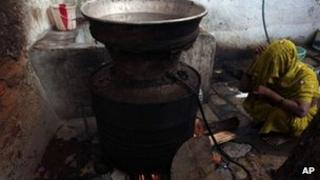 At least 17 people have died after drinking tainted home-made alcohol over the weekend in the southern Indian state of Andhra Pradesh, officials say.
More than 20 people are also being treated in hospital in the state's Krishna district.
Deaths from illicit alcohol are not uncommon in India, as licensed liquor is often too expensive for the poor.
In December, at least 169 people died after drinking toxic alcohol in West Bengal state.
Protests
The latest deaths were near the village of Kanimerla in Krishna district, and affected members of the Banjara community who were celebrating New Year.
Many complained of illness soon after consuming the liquor and some fell unconscious. They were treated at hospitals in Vijaywada, Mylavaram and Visannapet, the Press Trust of India reported.
The government announced 200,000 rupees ($3,750) in financial assistance to the families of those who died.
However, opposition groups accused the state government of not doing enough and organised protests outside the hospitals.
Police said the liquor had been sent for tests and that the owners of the two local alcohol stores had gone missing.
Last month, 169 people died after drinking tainted liquor in 12 villages in the South 24 Parganas district of West Bengal.
Illegal alcohol - commonly called desi daroo in India - costs very little and the majority of the consumers are poor daily-wage workers.