India outrage over low fine for drug trials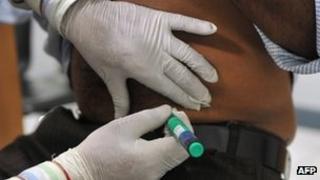 Authorities in the Indian state of Madhya Pradesh have been criticised for letting off lightly 12 doctors who conducted drug trials on children and patients with learning disabilities.
The doctors were fined 5,000 rupees ($94; £60) each for failing to inform the authorities about the tests.
Activists and opposition parties said the fine was a "joke" and called for an investigation by the federal police.
The trials of the drug to treat sexual dysfunction were in the city of Indore.
Millions of people in India are thought to be on clinical trials.
Correspondents say patients are often unaware that they are being experimented on, and that when they are told the high levels of illiteracy mean they are unable to give informed consent.
'Inhuman crime'
It was unclear how the latest case came to light.
However, one Madhya Pradesh doctor who lodged a complaint over the case, Dr Anand Rai, told the Times of India: "Drug trials were performed on patients who had gone to the hospitals for routine treatment. It's a criminal offence to put them under drug trials without consent."
He said the maximum penalty for the offence was 50,000 rupees.
The Congress party, which is the main opposition in Madhya Pradesh, also criticised the state government for levying such a low fine for "a grave, inhuman crime", The Hindu newspaper reported.
"The lives of the poor patients who were victimised in the name of drug trials is just 5,000 rupees? We demand an inquiry by the Central Bureau of Investigation," the paper quoted leader of the opposition in the state assembly, Ajay Singh, as saying.
The authorities said the doctors were fined for failing to inform health officials about the drug trials, not for failing to inform the patients.
Further action would require knowing the identities of the patients and the doctors who carried out the trials cited a law that requires them to keep the identities secret.