India corruption bill vote adjourned amid chaos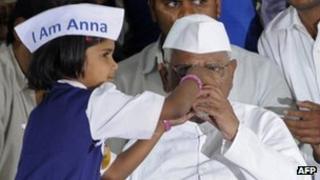 India's upper house of parliament has adjourned amid chaos without a vote on the country's controversial anti-corruption Lokpal bill.
The heated debate had stretched to midnight local time (18:30 GMT), with hundreds of amendments put forward.
At one point, one MP snatched the bill from a minister and tore it up.
The Lokpal bill, which empowers an independent ombudsman to prosecute politicians and civil servants, passed the lower house on Tuesday.
The main opposition Bharatiya Janata Party (BJP) immediately called on Prime Minister Manmohan Singh to resign, saying his government had shown it was not fit to rule.
The government said it had respected the constitution with the adjournment at midnight and that the people of India would know who was responsible for the failure to reach a vote.
The bill will now have to be revised and presented again.
'Useless'
The Congress-led government had been hoping the upper house would take the final step and make the bill law.
But media reports had said there was uncertainty about whether the governing coalition would be able to muster enough votes in the 243-member house.
The ruling alliance has 94 members there and needed a simple majority of 122 MPs to ensure the passage of the bill.
Finance minister Pranab Mukherjee had worked hard to shore up support among coalition members but faced opposition on key provisions, particularly on the state-level organisation of anti-corruption ombudsmen.
At one point, Rashtriya Janata Dal party member Rajniti Prasad tore up a copy of the Lokpal bill after snatching it from minister of state for parliamentary affairs V Narayanasamy.
Mr Singh had said before the debate: "I hope the bill will be passed by the upper house. I sincerely hope that all those who may have divergent views with regard to the Lokpal bill would respect the verdict of our parliament."
The debate has not only been heated in parliament.
Leading anti-corruption campaigner Anna Hazare has called the bill "useless".
He had started another hunger strike but has since called it off and threatened instead to launch a campaign of civil disobedience that would fill the country's jails.
Mr Hazare and his supporters say that tougher measures are required in the bill if it is to prove effective at reducing the level of corruption.
Mr Hazare's main complaint is that the bill proposes keeping India's top investigation agency, CBI, out of the purview of the ombudsman.
In other words, the nine-member Lokpal committee - which would include the ombudsman - would not have its own investigative agency, a major demand of anti-corruption activists like Mr Hazare and many opposition parties.
A recent survey said corruption in India had cost billions of dollars and threatened to derail growth.