Russia court declares Hindu book Bhagvad Gita legal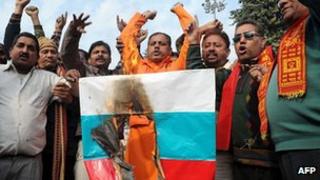 A Russian court has dismissed a call to ban an edition of the Hindu holy book Bhagvad Gita, in a case that triggered protests in India.
Prosecutors in the Siberian city of Tomsk wanted the edition to be ruled "extremist". That would put it in the same category as Hitler's Mein Kampf.
The Russian foreign ministry said it was the commentary on the text, not the text itself, that was under scrutiny.
The edition - Bhagvad Gita As It Is - is used by the Hare Krishna movement.
A lawyer representing the movement in Tomsk, Alexander Shakhov, welcomed the judge's decision, saying it "shows that Russia really is becoming a democratic society".
The controversial commentary on the text was written by A C Bhaktivedanta Swami Prabhupada, the founder of the movement, whose full title is the International Society for Krishna Consciousness.
Hare Krishna followers in Russia saw the case as part of efforts by the Russian Orthodox Church to restrict their activities.
India voices concern
The trial began in June and had been due to conclude on 19 December, but it was delayed until 28 December at the request of the Russian ombudsman for human rights.
But neither the ombudsman Vladimir Lukin nor his Tomsk colleague Nelli Krechetova was present in court for Wednesday's ruling.
On Tuesday India's Foreign Minister, SM Krishna, complained to the Russian Ambassador to India, Alexander Kadakin, about the Tomsk prosecution.
Mr Krishna said Indians had reacted very negatively to the alleged infringement of Hindu rights in Russia.
The Bhagvad Gita, one of the most popular texts for Hindus, takes the form of a conversation between the god Krishna and prince Arjuna.
Earlier this month Indian MPs demanded the government protect Hindu rights in Russia, shouting: "We will not tolerate an insult to Lord Krishna."
Ambassador Kadakin, quoted by the AP news agency, distanced himself from the Tomsk prosecutors, saying "any holy scripture, whether it is the Koran, Bhagvad Gita, the Bible, Avesta or Torah cannot be brought into court".
The Russian translation of the book was at risk of being placed on the Federal List of Extremist Materials, which bans more than 1,000 texts including Mein Kampf and publications by the Jehovah's Witness and Scientology movements.