Has Anna Hazare's campaign run its course?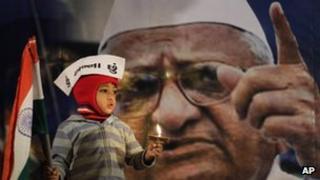 Has Anna Hazare's popular anti-corruption campaign run its course?
When the folksy, septuagenarian former army driver began a new hunger strike at a ground in Mumbai on Tuesday demanding a strong anti-corruption law, only a few hundred people turned up. He had moved the venue of the fast to India's financial capital because of the cold snap in Delhi.
His supporters insist that some 30,000 people had flocked at the venue but a report in The Hindu newspaper said "it did not look more than 3,000". Other papers like The Hindustan Times were cheekier. "Anna skips cold Delhi, finds Mumbai colder" read one headline.
So is Mr Hazare's popularity and support on the wane?
Many believe that it is unfair to come to any verdict based on a thin turnout at a protest taking place at the end of the year in India's busiest city. It is also difficult to ignore the fact that unless Mr Hazare and his spirited bunch of aides had not kicked up a storm over a strong anti-corruption bill, India's politicians would never have moved on it with the alacrity they have demonstrated in the past few months.
'Megalomania'
To digress, eight similar anti-corruption bills introduced by successive governments between 1968 and 2001 had lapsed. There has been no political will to tackle graft in a country where many politicians are seen to be extremely corrupt. "India's original project," wrote Sunil Khilnani in his excellent book, The Idea of India, "seemed to have fallen into corruption and degeneration. Politics and the state, once seen as the prophylactic that would invigorate the country, were now seen as the disease." This is the desperation of a people frustrated with corruption and what they see as the country's haughty, conniving political class that Mr Hazare tapped into so successfully.
But it is useful to look back at Mr Hazare's 12-day anti-corruption fast at Delhi in August - which was attended by tens of thousands of people and became the focus of a national campaign. It successfully put pressure on the government to introduce a strong anti-corruption law. Since then Mr Hazare's campaign has been dogged by controversies over the probity and political leanings of some of its leading members and a muddled foray into political campaigning.
Analysts like Kumar Ketkar believe that Mr Hazare's popularity is on the wane. They say Mr Hazare has been elevated from a campaigner to a messiah, and his campaign now smacks of megalomania. Mr Hazare, they say, revels in guilt-tripping the nation with his stories about his spartan abstentious life, something which may have begun to tire people. They say people will tolerate campaigners, but not making messiahs out of one.
Others feel that for many ordinary people, Mr Hazare remains a potent symbol of the fight against corruption. "There has been an element of overreach but I think Mr Hazare and his aides have also learnt a lot from the campaign," says social scientist Yogendra Yadav. If Mr Hazare's movement goads the government into bringing out a firm anti-graft law - the jury is still out on that one - and both he and the politicians learn their lessons from the experience, it would have served its purpose.
PS: Mr Hazare has now called off his fast, and said he will campaign against the "nation's traitors" for their inabiity to come up with a powerful anti-corruption law in the upcoming elections in five states early next year. No prizes for guessing who the "traitors" are. So is Mr Hazare's campaign now becoming a full-blown, political battle? We live in interesting times.