India MPs pass anti-corruption Lokpal bill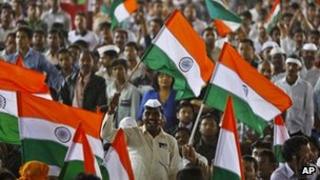 India's lower house of parliament has passed a controversial anti-corruption bill, amid a fresh protest hunger strike by campaigner Anna Hazare, who is demanding a stronger law.
The Lokpal bill sets up an independent ombudsman with the power to prosecute politicians and civil servants.
Prime Minister Manmohan Singh said the passage of the bill was a "special moment" in the life of the nation.
But Mr Hazare has called the bill "weak and useless" in its present form.
A string of major corruption scandals has damaged the government's reputation.
Loud applause
Mr Singh spoke out strongly in parliament in support of the bill.
"There are some very special moments in the life of the nation. This is one of them," he said.
"The broad provisions of the bill have been debated both in public domain and by political parties. It is my honest belief that the bill which is now before the house lives up to the promise."
He received loud applause when he said it was wrong to paint all officials as corrupt.
Mr Singh said it was also the duty of parliament to determine the passage of the law, in an apparent reference to Mr Hazare, whose 12-day anti-corruption fast in August became the focus of a national campaign and put pressure on the government to act on the issue.
Mr Hazare's main complaint is that the bill proposes keeping India's top investigation agency, CBI, out of the purview of the ombudsman.
In other words, the nine-member Lokpal committee - which will include the ombudsman - will not have its own investigative agency, a major demand of anti-corruption activists like Mr Hazare and many opposition parties.
The government has also kept outside the ombudsman's remit a "citizen's charter" for the timely investigation of public grievances against the government, another demand of Mr Hazare.
Instead, it has tabled a separate citizen's charter bill in parliament which makes it mandatory for every government ministry and department to act within 30 days on public complaints about services.
'Jail protests'
Ahead of his three-day fast in Mumbai, which began on Tuesday, Mr Hazare said: "Prime Minister Manmohan Singh is not keeping his word on bringing a strong anti-corruption law."
There were reports on Tuesday that the 74-year-old Mr Hazare was sick and running a high temperature but was refusing to end the fast.
His supporters in Delhi will also hold protests at the capital's Ramlila ground, the site of Mr Hazare's fast in August.
Mr Hazare's aides say that more than 125,000 people have signed up to "go to jail" if parliament does not pass the bill they want.
A recent survey said corruption in India had cost billions of dollars and threatened to derail growth.