Yoko Ono to make India women challenges artwork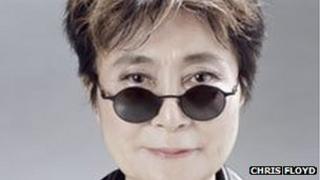 John Lennon's widow and artist Yoko Ono is creating a special installation for India on the challenges facing women, the gallery hosting the event says.
A public performance by Ono is part of the show - Our Beautiful Daughters - to be held at Delhi's Vadhera Art Gallery.
Ono told the BBC that she was "inspired by India and its daughters" and was looking forward to her visit to India.
The show will also present an archive of her films, music, and collaborations with Lennon.
Roshni Vadhera of the gallery said Ms Ono was "creating a special new installation for India that will engage the audience and shed light on some of the challenges women face today".
She will also exhibit some of her "instruction-based works" - similar to one in which she invited viewers to cover empty canvases and walls with messages and photographs of their mothers, Ms Vadhera said.
"India was always on my radar," Ono said in an email interview with the BBC.
"I have been there with my husband John a long time ago. Karma-wise it is interesting that I have been asked to come to the country I love and respect at this time when the world is going haywire," Ono said.
She said she and Lennon had visited the "camp" of the late Indian guru Sai Baba during their last visit to India, though she did not mention when the visit took place.
Asked what she was looking forward to seeing in India during her visit, Ms Ono said: "I would like to see that the ancient spirit of India is still intact and strong in the hearts of people."
Ms Ono said she led a busy life doing her art, music and looking after Lennon's legacy.
"I think I am a good artist/musician. But I never compare myself with other artists/musicians," she said.
Our Beautiful Daughters will launch at on 13 January and run till 10 March.
"This is the first time that India will experience Ono's iconic global presence and we have many exciting events planned around her visit, " Ms Vadhera said.
The gallery will plant clusters of small trees in 15 locations in Delhi, including in schools and hospitals, as a tribute to Ono's campaign for world peace, the gallery said.