Why Uttar Pradesh is India's battleground state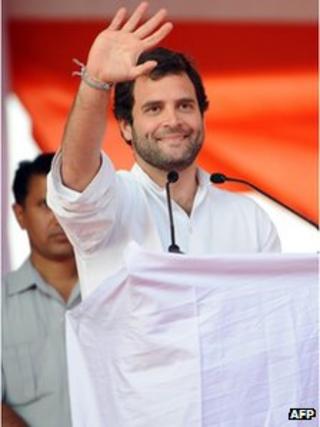 The battle for Uttar Pradesh has begun, and in the words of one commentator, the "ground is shaking in faraway Delhi".
Uttar Pradesh is one of India's key bellwether states with a population of 200 million, similar to that of Brazil. In February, over 100 million of its people will be eligible to vote for its 403 assembly seats in a staggered seven-phase state election.
Uttar Pradesh is also India's chronic under-achiever. It has provided the country with eight prime ministers, but remains one of the poorest and most backward states in what must be one of the cruellest ironies of Indian democracy.
Uttar Pradesh's human development index ranking - 18 - has remained unchanged since 2001. Its per capita income and literacy is considerably lower and the poverty much higher than the Indian average. Health care is in a shambles. Federal funds allotted for social welfare projects appear to achieve little on the ground, thanks to appalling delivery systems and endemic graft. Primordial loyalties based on caste, the bane of modern India, still decide voting decisions.
So the upcoming polls will demonstrate whether the ruling Bahujan Samaj Party, led by Mayawati, the mercurial leader of the Dalits (former known as "untouchables") will be able to hold on to power. Pitted against her is the Samajwadi Party (SP), another powerful regional party, mainly representing the interests of a caste grouping called Other Backward Classes (OBCs) and led by the ageing former wrestler Mulayam Singh Yadav. These two parties have for a long time marginalised the two national parties, the Congress and the Hindu nationalist BJP, in a state which has, in the words of a commentator, a "two-dominant-party multi-party system".
But, as always, the Uttar Pradesh election is a harbinger of what is to come in Indian politics.
This time around, it will demonstrate whether Rahul Gandhi, fourth-generation Nehru-Gandhi dynast and prime minister in waiting, has finally come of age. The 41-year-old Harvard-educated heir apparent has staked his reputation on the election and launched a vigorous campaign in a state where the last time his party even came close to 100 seats was some 20 years ago.
Low expectations
The expectations are ridiculously low, say analysts. Mr Gandhi is not even expected to win the state for his party. His supporters say that if he can help the party even treble its tally from the paltry 22 seats it holds in the present state assembly, he will have proved himself as an effective vote-catcher. Mr Gandhi is apparently willing to wait - "endlessly?", quip critics - to prove that he is fit to rule the country, but a decent showing in Uttar Pradesh will help his case.
More importantly, the polls will be an acid test for the Congress, India's beleaguered ruling party.
Battered by an avalanche of corruption charges and scorned by critics for running a weak, reactive and indecisive coalition government, the party is floundering. The zesty and popular anti-corruption campaigner Anna Hazare has effectively put it on the mat with his demand for a strong anti-corruption law, on which the party has flip-flopped embarrassingly before tabling what many say was a patchy bill in the parliament last week. An improved showing by Congress will help it combat the ire of the angry Indian street, which is fed up with corruption.
A clutch of early - and many would say, premature - opinion polls show that Congress votes are poised to increase, though it is not clear whether it will translate into a vastly larger number of seats. They also predict that the ruling BSP's vote share will decline. If that happens, Congress may well get to play the role of a spoiler and join hands with the BSP's rival, the Samajwadi Party, to form a coalition government.
It is not going to be easy at all. Under four-and-a-half years of Ms Mayawati's rule, the state has recorded an average of over 7% growth a year, a tad less than India's average of 8.15%. The growth, studies show, has been driven by massive state investments in building roads and related infrastructure. Infant mortality has declined, and some 100,000 teachers have been hired to narrow the yawning teacher-student ratio.
However, analysts say, all this may be undermined by the fact that Ms Mayawati's government is seen to be soft on corruption and the infiltration of criminals, another scourge of politics in Uttar Pradesh.
Sensing an improved performance or desperate for one, depending on how you look at it, the Congress has churned out sops in the run up to the polls. Last week, it announced a small reservation for minorities in government jobs and education places with an eye on the Muslim vote - 19% of the population is Muslim in Uttar Pradesh. Then it rolled out a cleverly timed guaranteed cheap food scheme. The party hopes its multi-billion-dollar job guarantee scheme will fetch some votes, but the scheme has reportedly not fared very well in the state.
The astute political commentator MJ Akbar, however, offers a tantalising scenario even if the Congress does reasonably well. It provides, he says, the ballast to make Mr Gandhi prime minister after the presidential elections in June. The harried prime minister Manmohan Singh will be 80, and "can make age an excuse to retire". The Congress will welcome the change, the allies will submit and Mr Gandhi, emboldened by the inevitable upper-class English media hype, will call an early general election in November, predicts Mr Akbar. But Uttar Pradesh's canny voters can throw up surprises which can upset the best-made plans of every political party.