India PM says growth hurt by 'negative comments'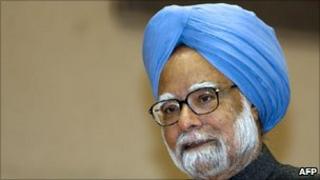 Indian PM Manmohan Singh has said that criticism of government policies by the country's business leaders was hurting economic growth.
Mr Singh told a meeting of businessmen that he was disappointed to hear that government policies were to blame for the industrial slowdown.
India's economy has grown at its slowest pace in two years, as manufacturing has suffered.
Businessmen have blamed lack of reforms and policy indecision for the crisis.
With inflation soaring, the government has been battling to find the right balance between triggering growth and keeping prices in check. Interest rates have soared, and slowed down investment.
Mr Singh said India's economy was being affected by the Eurozone debt crisis and sluggish US growth.
But he acknowledged that India was also facing many domestic problems.
He said infrastructure and energy needed "greater attention", high inflation was "unacceptable" and the "sharp depreciation of the rupee" was a matter of concern.
But Mr Singh said the negative comments by business leaders added to the "uncertainty and have emboldened those who have no stake in our economic growth".
"I must confess that it is a little disappointing to sometimes hear negative comments emanating from our business leadership or be told that government's policies are causing slowdown and pessimism In the industrial sector," he said.
Mr Singh asked for the industry's support for all government policies, emphasising that industrial investment and growth depends heavily on the "expectations of investors".
The country has also been fighting inflation against the backdrop of a weakening economy. Industrial output contracted by 5.1% in October from a year earlier, the first such fall in over two years.