India tables cheap food bill for poor in parliament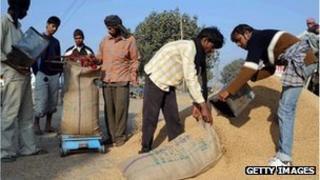 India's government has tabled a landmark bill in parliament aimed at guaranteeing cheap food for more than half the country's population.
The Food Security Bill aims to provide subsidised food to 75% of rural people and about half of urban households.
The scheme is likely to cost $19bn and will be implemented in phases.
India has more malnourished children than any other country in the world and its malnutrition rate is worse than the average in Africa.
It also fares worst in terms of low birth weight and underweight children, and under-five infant mortality compared with Brazil, Russia and all its South Asian neighbours.
'Drain on resources'
Some 65 million tonnes of grain will need to be procured from farmers for distribution under the scheme, up from about 55 million tonnes at present.
India's food subsidy bill is also expect to climb to $19bn from $13bn to finance the scheme.
Among other things, the bill proposes that
The cost of procuring grain will be borne by the federal government and Indian states
Every person belonging to a "priority household" will be provided with 7kg of cheap foodgrains per month. Others belonging to the "general category" would be entitled to not less than 3kg of foodgrains per month
Wheat, rice and coarse cereals will be available to the most needy households at under 6 cents a kg
"Free or affordable" meals for destitute, homeless and "disaster-affected" people as well as those "living in starvation"
Cash benefits to meet increased food requirements of pregnant women, who would get $19 for the first six months of pregnancy
Critics of the bill say that it will lead to a drain on resources as India's state-run food distribution system is leaky and prone to pilferage.
But advocates of the scheme like economist Jean Dreze say the bill can do much to improve people's lives.
"Hunger must go. There are important questions to discuss about the details of the bill and how to implement it. But shelving it on grounds of fiscal prudence would be a case of distorted priorities," Mr Dreze wrote in The Hindustan Times newspaper.
Separately, the government has announced that food inflation in India has fallen to a four-year-old low on the back of falling vegetable and wheat prices.
But it continues to hurt the poor and remains a cause of worry for the government.