India custody deaths 'top 1,500' in a year, says report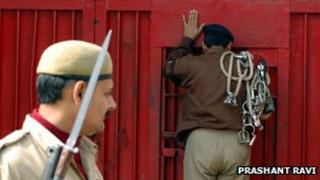 More than 1,500 people have died in official custody in India in the past year, according to data released by the country's Human Rights Commission.
Most of the deaths in prison and police custody - 331 - were in the northern state of Uttar Pradesh.
Other states where more than 100 people had died in custody were Andhra Pradesh, Bihar and Maharashtra.
Rights groups say a large number of such deaths happen because of torture in custody, claims officials reject.
The government routinely attributes deaths in custody to illness, attempted escape, suicide and accidents.
An unnamed commission official told The Indian Express newspaper that they had collected the data on "the basis of individual complaints as well as those sent by prison authorities".
After Uttar Pradesh, Bihar (136) and Maharasthra (130) recorded most deaths in custody.
Twenty-two so-called "custodial deaths" were also reported from the capital, Delhi.
The deaths were recorded between April 2010 and March 2011.
In 2008, a Delhi-based rights group reported that that 7,468 people - that is four people every day - had died in prison or police custody since 2002.