Russia criticism of Gita absurd, says India minister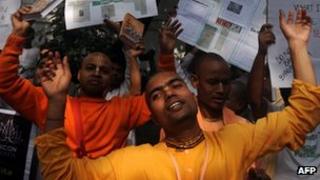 Indian Foreign Minister SM Krishna has described as "absurd" a complaint in Russia that the Hindu holy book Bhagvad Gita is an extremist religious text.
Indian MPs have expressed outrage at a court case in Russia that could see the Hindu holy book banned there.
State prosecutors in Tomsk, in Siberia, recently put Bhagvad Gita say the text sows social discord and want its distribution banned.
Russian embassy officials in Delhi said they had great regard for the text.
But SM Krishna told parliament that the complaint was filed by "ignorant people" - the holy book had also been put on a list that includes Hitler's Mein Kampf.
Russia recognises freedom of religion among its four main faiths, Orthodox Christianity, Islam, Buddhism and Judaism.
'Protect Hindu rights'
"The government has taken up the issue with the Russian government and Indian embassy officials are in touch with the officials of the International Society of Krishna Consciousness (ISKCON)," Mr Krishna said.
Earlier on Tuesday, members from the opposition Bharatiya Janata Party expressed outrage over the move in Siberia to ban the holy book.
On Monday, several MPs demanded the government protect Hindu rights.
"We will not tolerate an insult to Lord Krishna," said Laloo Yadav, leader of the Rashtriya Janata Dal party.
Bhartruhari Mahtab, leader of the Biju Janata Dal, said: "I want to know from the government what it is doing. The religious rights of Hindus in Russia should be protected. The government should impress upon the Russian authorities through diplomatic channels."
Russian authorities said they were saddened by the development.
"It is strange that such events are unfolding in the beautiful university city in Siberia, as Tomsk is famous for its secularism and religious tolerance," Alexander M Kadakin, Russian Ambassador in India, said in a statement on Monday night.
"Well, it seems that even the lovely city of Tomsk has its own neighbourhood madmen. It is sad indeed."
He said: "I consider it categorically inadmissible when any holy scripture is taken to the courts. For all believers these texts are sacred."
The case in Tomsk concerns a Russian translation of the Bhagvad Gita by ISKCON.
The book is central to the Hare Krishna movement and dozens of its adherents protested outside the Russian consulate in Calcutta on Monday.
The court in Tomsk on Monday suspended its ruling until 28 December to seek the opinion of the Russian ombudsman and religious experts.