India MPs angry as Russia court ponders Hindu book ban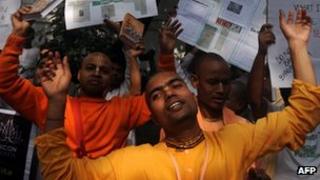 Indian MPs have expressed outrage and forced an adjournment of parliament in protest at a court case in Russia that could see a Hindu holy book banned.
MPs demanded the government protect Hindu rights, shouting: "We will not tolerate an insult to Lord Krishna."
State prosecutors in Tomsk argue the Bhagvad Gita is an extremist religious text and want it put on a list that includes Hitler's Mein Kampf.
They say it sows social discord and want its distribution banned.
Russia recognises freedom of religion among its four main faiths, Orthodox Christianity, Islam, Buddhism and Judaism.
'Diplomatic protest'
The Tomsk case concerns a Russian translation of the Bhagvad Gita.
The book is central to Hare Krishna and dozens of the movement's adherents protested outside the Russian consulate in Calcutta on Monday.
The court in Tomsk on Monday suspended its ruling until 28 December to seek the opinion of the Russian ombudsman and religious experts.
Bhartruhari Mahtab, leader of the Biju Janata Dal, brought up the issue in the Indian parliament on Monday.
He said: "I want to know from the government what it is doing. The religious rights of Hindus in Russia should be protected. The government should impress upon the Russian authorities through diplomatic channels."
The speaker of parliament rejected requests for speeches on the subject and was forced to adjourn amid protests.