India's troubled Kingfisher Airlines 'grounds 15 jets'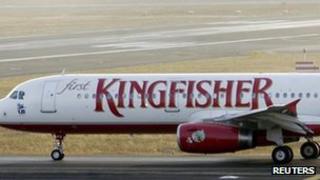 India's Kingfisher Airlines has grounded 15 jets, executives told media, amid a continuing cash struggle.
The Economic Times reported executives as saying the airline was struggling to pay maintenance costs.
There have been reports of more pilots leaving the company but Kingfisher insisted it had enough to operate its revised schedule.
Kingfisher has announced significant losses this year amid cost concerns for the whole Indian aviation sector.
Kingfisher, now India's third-largest carrier, last month reported a doubling in losses between July and September to 4.69bn rupees ($93m; £58m) compared with 2.31bn rupees for the same period last year.
Bank pledge
A Kingfisher executive confirmed to Reuters that the 15 planes had been grounded but could not say how long it would last.
The news agency quoted State Bank of India chairman Pratip Choudhuri as saying that the bank was trying to help Kingfisher on funding and that "everything is on the table".
The airline has not posted a net profit since it started operations in May 2005 and is about $1.2bn in debt.
The carrier's problems have gone from bad to worse in recent months as it has found it difficult to raise fresh capital, resulting in reports of unpaid fuel bills and other dues.
In September the airline shut its budget carrier, Kingfisher Red, saying it no longer intended to compete in the low-cost market.
Five of India's six main airlines are loss-making. They have been particularly badly hit by fuel price rises.