Rahul Dravid's recipe for reforming cricket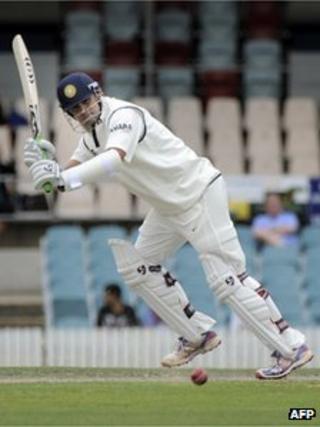 When Rahul Dravid talks, people listen.
The star batsman has always been a thinking, introspective sportsman. With a staggering 24,000 runs in Tests and one-day games under his belt, 38-year-old Dravid is also eminently qualified to talk about the future of cricket.
So when Dravid delivered a luminous speech at the Bradman Oration lecture this week in Australia, the cricketing world stood up and listened.
Cricket, Dravid rightly said, faces huge challenges.
In India, the mecca of the game, empty stands stared at the players during the recent series against England and West Indies. Dravid said he saw empty stands at a one-day international in India for the first time in the past 30 years - India has played 227 one-day internationals at home since 1981 - during the October series against England.
"It was called the 'revenge' series, meant to wipe away the memory of a forgettable tour of England. India kept winning every game, and yet the stands did not fill up. Five days after a 5-0 victory, 95,000 [people] turned up to watch India's first Formula 1 race," Dravid said.
A few weeks later, against the West Indies, the stands got emptier, till the tour reached the smaller cities which see few international games.
'Listen to the fan'
Dravid believes that too much cricket and spectator fatigue alone do not explaining the dwindling crowds.
Cricket, like most sports, needs a context and this has been often missing in India's crowded cricketing calendar, brimming over with inconsequential, uneven games.
Where was the context in the India-England one-day series when the two countries had played each other in four Tests and five one-day internationals just weeks before?
"Whatever the reasons are - maybe it is too much cricket or too little by way of comfort for spectators - the fan has sent us a message and we must listen," said Dravid.
"This is not mere sentimentality. Empty stands do not make for good television. Bad television can lead to a fall in ratings, the fall in ratings will be felt by media planners and advertisers."
India provides 70% of cricket's revenue but let us not get giddy over its fine financial health. Let us not forget the fan from whom the game derives its financial heft.
"They deserve our respect and let us not take them for granted. Disrespecting the fan is disrespecting the game," Dravid said.
There are recurring concerns over the health of the one-day game, though it got a great boost after India lifted the World Cup. And purists believe that a glut of Twenty20 is wrecking the game's aesthetics.
But it's not all gloom and doom, Dravid suggests. All three formats can coexist peacefully. But, he adds carefully, cricket needs to find a middle path.
It must scale down this "mad merry-go-round" that players find themselves in: a shallow two-Test series with seven ODIs and a few Twenty20 games thrown in, for example.
So first things first. Protect Test cricket, implores Dravid. Explore day-night Tests. Seriously plan for a world Test championship, making it the marquee event in the format. Play more Tests in smaller cities and revive old venues to generate more interest.
"Meaningless" one-day cricket doesn't escape Dravid's unrelenting gaze. Slash useless games without any context. Make sure that all 50-over games are in the build-up for big International Cricket Council (ICC) tournaments like Champions Trophy and World Cup.
And the best way to make sure that Twenty20 - is this Dravid's bete noire? - doesn't run amok and ruin the game, he suggests that the format is best served by thriving domestic leagues.
Listen to Dravid carefully and you sense his anxiousness about the future of Test cricket. For a man often regarded as the 134-year-old format's last classical batsman, this is expected.
Test cricket deserves to be fiercely protected, he says. No serious follower of the game would disagree.
"Where I come from, nation versus nation is what got people interested in cricket in the first place. When I hear the news that a country is playing without some of its best players, I always wonder, what do their fans think?"
Well, in this age of many distractions, many of us fans would turn away from the game. Are the authorities listening?