India police rescue hundreds of Bangalore child beggars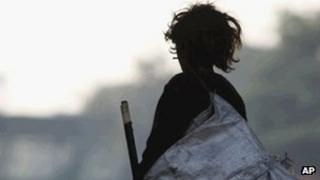 Police in the southern Indian city of Bangalore have busted a child begging ring and rescued 292 children.
More than 100 of the rescued children are infants, below the age of three, senior police officer Pranab Mohanty told the BBC.
He said many children were drugged with cough syrup. The rescue operation was carried out over three days.
Nine people have been arrested and police say they are looking for the "kingpin" of the racket.
Abducted
"We started identifying child beggars about three months ago, as we felt there was a spurt in their numbers. We counted more than 1,000 child beggars in the city," Mr Mohanty said.
The rescue operation was conducted throughout Bangalore's streets. Most of the children are believed to be children of migrant labourers coming into the city for work, Habib Beary reports from Bangalore.
The police say they believe the children were abducted and were being forced to beg by suspected traffickers.
The rescued children have been sent to government remand homes and centres run by non-government organisations for rehabilitation, our correspondent reports.
Campaigners say more than 60,000 children go missing every year in India and many of them end up as child labour, beggars or in brothels.