India's heated death penalty debate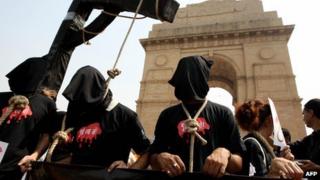 At a Delhi Sikh temple, Mukhtar Kaur offers prayers for her son Devinder Pal Singh Bhullar.
For the past 10 years, he has been on death row, convicted of carrying out a bomb attack in 1993 in which nine people were killed.
It has taken this long for the appeals against his sentence to pass through the various courts in the maze that is the Indian judicial system.
"This is like dying every day," she says. "For me and for him."
In May this year, the Indian president rejected his final mercy petition.
But Bhullar has still not been executed as lawyers and civil groups campaigning on his behalf push for clemency on the grounds that he was convicted after the police secured a confession under a now outlawed anti-terror law.
'Living corpse'
In her broken English, Mukhtar Kaur tells me that the inordinate delay has taken its toll on both of them.
"Every morning he wakes up thinking he's going to die," she says.
"Seeing him this way has really depressed me. I am not alive anymore - I am a living corpse," she says.
There are an estimated 300 people on death row in India. And although India retains capital punishment, it is rarely carried out.
Since 1995 only one person has been executed, through death by hanging.
"Every prisoner [on death row] hopes against hope," says Sunil Kumar Gupta, a senior official at Delhi's Tihar jail, Asia's largest prison with 21 people awaiting execution.
He explains why many of them have been incarcerated for years.
"Whenever someone moves a mercy petition, the jail superintendent has no option but to refer that petition to the authorities and then to wait for their order, instructing us on what to do.
"If the petition is rejected, there are people and groups who will move it again and again," he says.
'Unauthorised punishment'
It is a process that can take years. Now people are beginning to question its legality.
One case which has led to a heated public debate is that of three men convicted over the 1991 assassination of former prime minister Rajiv Gandhi.
They have spent two decades in prison and the Indian president rejected their final petition in August of this year.
But their lawyers argue that since they have spent so much time on death row they should no longer be executed.
"The law is very clear on this point, that delay is a ground for commuting the sentence," says Ram Jethmalani, one of India's top lawyers, who has represented the three men.
India's Supreme Court has now asked Mr Jethmalani to study all death penalty cases and advise it on what to do.
"I understand that there will be some reasonable time taken in deciding these matters," Mr Jethmalani told the BBC.
"But all avoidable delay is extra punishment. It is in addition to the punishment of death and, therefore, it becomes unconstitutional since it's unauthorised punishment."
It is an argument that is likely to spark further controversy among Indians who are already very divided over the issue of the death penalty.
"There are very serious crimes against the state, against women, against humanity, so I believe there is some case for retaining it in the rarest of rare cases," one man in a busy Delhi market told me.
But another shopper, a young woman, feels India could not claim to be a civilised country or aspire to become a superpower as long as it continued to have the death penalty.
"The argument for having it is completely specious because the death penalty does not deter anyone from committing crimes. If you have heinous crimes, lock them up, you have laws," she says.
It is a passionate debate, especially in those cases which have had a lasting, often emotional, impact on the public.
Last year, a court sentenced to death Mohammad Ajmal Amir Qasab - the sole surviving gunman behind the 2008 Mumbai terror attacks.
It is unlikely there will be too many Indians asking for him to be pardoned.