India cabinet approves cheap food bill for poor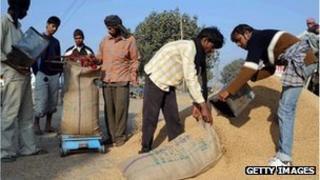 The Indian government has approved a bill which will guarantee cheap food for more than half of the country's people.
The Food Security Bill aims at providing subsidised foodgrains to 75% of the rural population and about half of the urban households.
The bill now needs the approval of the parliament, where it is likely to be introduced on Monday.
The scheme is likely to cost $19bn and will be implemented in phases.
"This is a big challenge. The country will have to take responsibility of producing huge quantities of foodgrains," Agriculture Minister Sharad Pawar said after the cabinet meeting on Sunday.
Some 65 million tonnes of foodgrains will need to be procured from farmers for distribution under the scheme, up from some 55 million tonnes at present.
India's food subsidy bill is also expect to climb to $19bn from $13bn to finance the scheme.
Among other things, the bill proposes that
The cost of procuring foodgrains will be borne by the federal government and the states.
Every person belonging to a "priority household" will be provided with 7kg of cheap foodgrains per month. Others belonging to the "general category" would be entitled to not less than 3kg of foodgrains per month.
Wheat, rice and coarse cereals will be available to the most needy households at under 6 cents a kg.
"Free or affordable" meals for destitute, homeless, "disaster-affected" people as well as those "living in starvation".
Cash benefits to meet increased food requirements of pregnant women, who would get $19 for the first six months of pregnancy.
Food inflation in India has fallen to 8.5% from a high of 11%, but it continues to hurt the poor and remains a cause of worry for the government.