Calcutta - city of flames?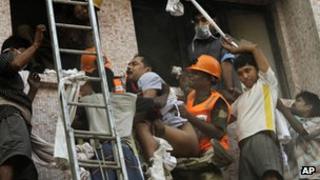 Calcutta appears to be emerging as India's fire capital.
Last Friday, some 90 people died in a blaze at the AMRI hospital, many of them choking in the smoke as they desperately tied to escape.
This happened just 18 months after I stood in the centre of the city, watching people throw themselves out of a building following a fire at the historic St Stephen's Court.
Some 43 people eventually died because of that blaze.
In 2008 more than 2,500 shops were destroyed in a huge fire at one of the city's largest markets.
So why does nothing change?
'Given warning'
Minister in charge of the fire services for West Bengal, Javed Khan, runs India's oldest fire brigade set up by the British more than 190 years ago.
He is unhappy that some are calling his city India's fire capital.
"It is very unfair to give that tag to Calcutta, as unfortunately these things do sometimes happen all over the country," he says.
As investigations into what caused the fire continue, he says that "the hospital had been given a warning and they had undertaken to clear the basement" where the fire started. It was never done.
And that is the problem here in India. The laws are in place but they are often flouted.
Since Friday's fire there have been reports from almost every city of hospitals with similar problems.
Surgeon Randip Ray has worked in both Calcutta and Delhi. He feels that "such a tragedy could happen in 90% of the hospitals in India as most do not have adequate fire safety facilities".
More worryingly he adds that he knows of "many hospitals and nursing homes in Calcutta that have been given warnings with regard to safety. But nothing ever happens as people are paid off".
Indians are used to reading about disasters.
Every year it seems that an increasing number of people die in fires or accidents on the trains or on the roads.
Dr Niladri Chakraborty, dean of engineering at Jadavpur University, believes safety is not a priority in India and until it is such disasters will continue.
He says that abroad there are fire drills - in India they are non-existent.
It has emerged that the smoke alarms in the hospital were turned off and that the water sprinklers over patients' beds did not work.
Dr Chakraborty says that is evidence of the negligence that exists in many parts of this city.
Outside the hospital people have been lighting candles to remember their dead.
Shoukat Mukherjee lost a relative in the fire who had only been admitted hours before the blaze.
Last year he himself was caught up in the fire at St Stephen's Court.
He says that action now needs to be taken as "there are hundreds of buildings in this city that are not safe. They need to be pulled down and rebuilt".
Sitting on a hospital bed, Rajiv Das is happy to be alive.
He is one of the lucky ones who survived.
While the investigations continue into the fire and politicians here promise that it will not happen again, he has a more cynical view.
"We Indians have come to live with it. We cannot expect anything better. Nothing is going to improve. There might be two or three days of the chief minister talking about so many things. Nothing will change - 55 years of being an Indian, I know nothing will change."
It is a view that many hold in this city.
A number of banners have appeared outside the hospital.
The fire minister may not agree with one of the banners but millions of others do - it says Calcutta is a city of flames.