Tears and anger at Calcutta hospital blaze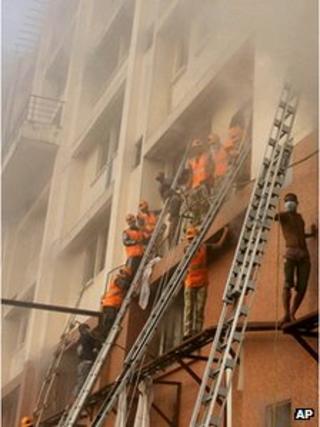 As I approached the AMRI hospital in south Calcutta in the morning, I could see columns of smoke rising even from a distance.
At least 25 fire engines were at the site - with firefighters trying to both douse the fire and reach the upper floors of the hospital.
The rescue workers who had managed to reach some of the rooms were bringing down patients - most of them either dead or unconscious.
A relative of one patient told me: "We were sleeping on the ground floor when someone woke us up. There was smoke everywhere. We asked the hospital staff to bring down the patients.
"They were trying to douse the fire with small extinguishers. We tried going up but had to retreat.. it was dark and full of smoke."
Local residents were the first at the scene to help.
One man who noticed the fire and, with others, broke glass panes to try to reach the upper floors, said "it was tough to breathe inside".
People were shouting from the top floor, calling for help.
"Hospital security men didn't allow us to enter, so we cut the barbed-wire fences and jumped into the premises," another resident said.
Frantic search
Scores of ambulances were carrying patients from the hospital.
Thick columns of smoke spread from the building and rescue workers broke windows to let in air.
Dead bodies - wrapped in white sheets - were being brought out and taken to the mortuary.
Soon, hundreds of relatives gathered in front of the hospital - frantically seeking information.
But hospital authorities had little to give them - they could not say how many had died or who had been brought out.
Unable to find their loved ones, many relatives quickly ran out of patience.
Shyama Mukherjee was crying inconsolably. His aged mother had been brought to the building just a day earlier.
"And now I don't know what happened to her. I have searched all the bodies, seen all the injured. My relatives have searched in all the other hospitals too. Still there is no trace of her."
He called me a few hours later. He and his relatives had found her dead, her body almost beyond recognition.
Another relative said: "My sister was supposed to be released today. We brought an ambulance to take her back. Now we can't find her."
One of the patients who died in the fire had come from Agartala, the capital of the north-eastern state of Tripura.
His relatives say the hospital had charged them $7,687 (£4,886).
To pay the hospital, they said they had sold their house in Agartala.
"We've lost everything now," one of them said.
The hospital authorities announced they would waive the bills for all those affected, but it meant nothing to this family.