Indian protesters form human wall to demand new dam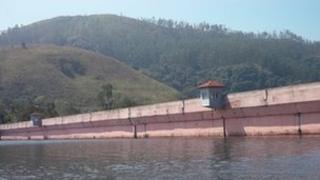 Thousands of people in the Indian state of Kerala have formed a human wall to demand a replacement to the 116-year-old Mullaperiyar dam.
The protest was led by the opposition Left Democratic Front (LDF) which wants a new dam to be built because of safety concerns about the old one.
But Tamil Nadu, which operates the dam in Kerala, insists it is safe and that water levels can be raised.
Tension between the two states over the issue has been rising in recent weeks.
The human chain was 196km (121 miles) long and stretched from near the Mullaperiyar dam all the way to the city of Kochi.
Opposition politicians, social activists and families along the way took part.
The slogan of this campaign was "new dam for Kerala and water for Tamil Nadu", LDF leaders said.
They also demanded that the central government intervene to resolve the issue quickly.
'Ensure peace'
On Wednesday, Kerala Chief Minister Oommen Chandy wrote about the issue to his Tamil Nadu counterpart Jayalalithaa.
He said that police numbers had been strengthened in the area and the government was committed to "protecting the dam and ensuring peace in the area".
On Monday night, police in Kerala banned gatherings of more than five people at the dam.
The move followed clashes between people from the two states near the town of Kumali over the issue.
A state assembly panel set up to assess the condition of the dam and headed by Water Resources Minister PJ Joseph visited the structure on Thursday.
The central government has invited senior officials from both states to discuss the issue later this month.
Tamil Nadu maintains the dam was repaired in 1979 and insists that its walls can hold more water than the current level of 136ft (41m).
Tamil Nadu operates the dam, built in 1886, under a 999-year lease agreement to irrigate farmland on its side.
The two states are also fighting a legal battle over the issue in the Supreme Court.