India dam row: Kerala and Tamil Nadu MPs clash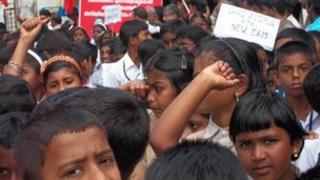 MPs from Kerala and Tamil Nadu have clashed in India's upper house of parliament over the controversial 116-year-old Mullaperiyar dam.
Members from Tamil Nadu insisted the dam was safe and demanded its water level be raised.
Kerala MPs said it should be demolished and rebuilt as it was a matter of life and death of the people in the state.
On Monday night, police in Kerala banned gatherings of more than five people at the dam.
The move followed clashes between people from the two states near the town of Kumali over the issue.
'Allay the fears'
"The government of Kerala is creating panic and rumour among its people," AIADMK party MP V Maitreyan said in the Rajya Sabha (Upper House).
He called on the federal government to raise the water level of the dam as it was affecting the crops in Tamil Nadu.
Congress party MP from Kerala, PJ Kurien, said according to a report by experts from the Indian Institute of Technology, the dam would not be able to withstand an earthquake measuring above five.
He said a new quake-resistant dam should be constructed in place of the present one.
"If the dam is not safe, let us have another dam... there is a fear which needs to be allayed," he said.
Tension between the two states has been rising over the past few weeks.
Leaders from both Kerala and Tamil Nadu have met the prime minister to seek his intervention.
The central government has invited senior officials from both states to discuss the issue later this month.
Tamil Nadu maintains the dam was repaired in 1979 and insists the dam's walls can hold more water than the current level of 136ft (41m).
Tamil Nadu operates the dam, built in 1886, under a 999-year lease agreement to irrigate farmland on its side.
The two states are fighting a legal battle over the issue in the Supreme Court.