Tom Cruise India trip organisers deny hiring fans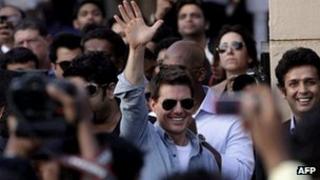 The organisers of Hollywood star Tom Cruise's recent visit to India have denied reports that they hired 200 fans to welcome the star at Mumbai airport.
A spokesman for Wizcraft said they were "not aware of this" and that the "information is incorrect".
Cruise arrived on Saturday for a special screening of his latest film, Mission Impossible: Ghost Protocol.
Media said the "fans" were paid from $3.87 (£2.5) to $7.73 (£5). Cruise was at the airport less than 10 minutes.
The star waved at the cheering crowds and posed for photographs before being taken to his hotel.
'Special screening'
The Times of India newspaper said a few of the "fans" were not sure who they were welcoming, despite carrying placards reading, "We love Tom Cruise", "Tom - chak de India", and "Tom Cruises".
It said three girls who were among the most vocal members of the crowd did not even know what Cruise did.
"We're not certain, but 300 rupees for an hour outside the airport is not bad," the paper quoted one of them as saying.
A Wizcraft spokeswoman told the Wall St Journal's India Real Time that the story was "sensationalist", adding: "We are not aware of any such arrangement."
The Hollywood star came to India on a two-day visit at the weekend to promote the film ahead of its global release.
Bollywood actor Anil Kapoor, who also stars in the film, joined Cruise and 1,500 Indian fans in the suburb of Wadala on Sunday for the special screening.
"I wanted to come to India my whole life, so I am very excited," he told the Press Trust of India news agency.
He was accompanied on this promotional tour by his co-star in the film, Paula Patton.
The screening was attended by several Bollywood stars, including Sonam Kapoor, Abhishek Bachchan, Aamir Khan and Farhan Akhtar.
On Saturday Cruise visited the famous monument to love, the Taj Mahal in Agra.
The fourth instalment of the Mission Impossible films is directed by Brad Bird and will be released in India on 16 December.