India MPs end deadlock as retail suspension confirmed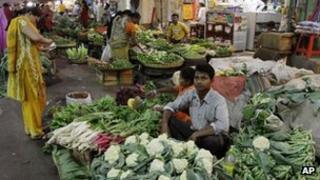 India's parliament has ended a two-week deadlock after the government confirmed it was suspending a plan to open up the retail market to global supermarkets.
The decision has been suspended "till a consensus is developed through consultation among various stakeholders", a statement said.
Opposition parties hailed a "victory" but the government insisted the suspension was only temporary.
The decision to allow foreign chains into India has been fiercely opposed.
Critics say the move will destroy millions of jobs and businesses among smaller retailers.
Supporters say it will widen consumer choice, reduce waste and improve security for farmers.
'Virtual rollback'
Finance Minister Pranab Mukherjee told parliament on Wednesday that the government would "take a decision [on retail reform] after a consensus is developed after consultations with all stakeholders".
The stakeholders include chief ministers of states and all the political parties, he said.
Mr Mukherjee hoped that parliament would now begin functioning, "as only 10 days are left for the session to end".
Main opposition Bharatiya Janata Party (BJP) leader Sushma Swaraj mocked the government in parliament.
"Bowing down to the popular sentiment is not a defeat for the government," she said. "That the government bowed down before popular sentiment is a great victory for democracy."
The opposition had refused to allow parliament to function since the announcement of the reform on 24 November, forcing adjournments almost every day.
Virtually no work has been done, including on a key anti-corruption bill.
Earlier on Wednesday, the government confirmed at an all-party meeting that the controversial retail reform was being put on hold.
"It is a virtual rollback. It is a victory for democratic forces," said Gurudas Dasgupta of the Communist Party of India (CPI), who attended the meeting.
However, Minister of Renewable Energy Farooq Abdullah said the decision on retail reform had only been suspended, and there had been "no rollback".
Analysts say the decision is a blow to the government's image and question why it did not evolve a consensus before announcing the move.
Business leaders have criticised the opposition to retail reform.
The Federation of Indian Chambers of Commerce and Industry issued a statement saying the suspension was "deeply disappointing".
"It is a highly regressive move," it said. "For the economy as a whole it is imperative that reforms like these should take place."
An open letter from former Hindustan Unilever chairman Ashok Ganguly and Deepak Parekh, chairman of the Housing Development Finance Corporation, said opposing the reform was "to the detriment of the vast majority".
The government had announced it would allow 51% foreign ownership of multi-brand retail stores, allowing groups like Wal-Mart and Tesco to open stores.
Currently, foreign-owned multi-brand retail operators can only sell wholesale in India, not directly to customers.