Mullaperiyar dam: Kerala police ban protest meetings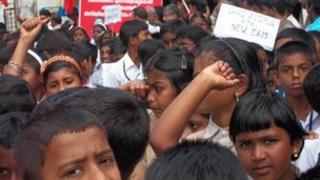 Police in India's southern state of Kerala have banned gatherings of more than five people at a controversial dam near the Tamil Nadu border.
The move follows clashes between people from both states near the town of Kumali on Monday evening, although the situation has now eased.
Meanwhile, political parties in Kerala are meeting to discuss the row with Tamil Nadu over the Mullaperiyar dam.
Kerala says the 116-year old dam is a security risk but Tamil Nadu disagrees.
Rising tensions
Kerala's Chief Minister Oomman Chandy has appealed for calm.
"Nothing should be done to vitiate the good friendly relations that Kerala and Tamil Nadu share," Mr Chandy said.
He asked Prime Minister Manmohan Singh last week to persuade Tamil Nadu to agree to decommission the old structure and build a new one.
MPs from Tamil Nadu also met the prime minister to oppose any move to demolish the dam.
The central government has invited senior officials from both states to discuss the issue this month.
Kerala says the British-built Mullaperiyar dam would put millions of lives in danger if it broke.
But Tamil Nadu wants the dam's water storage capacity to be increased, as it needs more water to irrigate its fields.
Tamil Nadu maintains the dam was repaired in 1979 and insists the dam's walls can hold more water than the current level of 136ft (41m).
Court battle
Tamil Nadu operates the dam, built in 1886, under a 999-year lease agreement to irrigate farmland on its side.
The agreement was signed by the Secretary of Madras State (now Tamil Nadu) under the British Raj and the Maharaja of Travancore.
Last week, the prime minister called for restraint from Tamil Nadu and Kerala on the issue.
The two states are also fighting a legal battle in the Supreme Court.