A Push for climate change awareness in India's south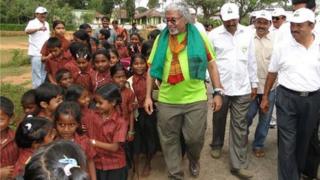 UK-based climate campaigner, Pushpanath Krishnamurthy, is walking more than 500km (312 miles) in the Indian state of Karnataka to highlight ecological issues such as climate change and biodiversity, as leaders meet in South Africa for a key summit. Vasanthi Hariprakash reports from Kodagu district in Karnataka.
Children, women and village elders flock to hear and see the strange-looking, long-haired, 60-year-old Push as he walks through the villages, steep hills and rivers of the Western Ghats of India.
He is greeted with garlands at every village he stops at. He has a simple message for the leaders of more than 190 countries presently meeting in Durban in South Africa for the UN climate change conference: You talk, We walk.
"In every village, I ask people two simple questions: Is climate changing? Is it for good?" explains Push as he stops his walk to catch a quick lunch of puliyogare (a spicy rice preparation) offered by some villagers.
Push loves taking long walks. The last time he took one was in 2009, when he walked the 550km stretch from Oxford to Copenhagen over 23 days, ahead the climate summit in the Danish capital.
A global campaigner on climate and trade, Push says it is his two sons and wife Uma, a teacher at a top college in Oxford, who keep him going.
Carbon sink
This time round, Push chose the Western Ghats for a special reason. This is the birthplace of coffee in the state of Karnataka.
Coffee is the second-most-traded commodity after fossil fuel.
"Yet... none of us who drink it can imagine just how much poverty there is in a coffee cup," says Push.
A traditional Western Ghats crop, coffee is believed to act as a crucial carbon sink, preventing soil erosion and protecting biodiversity.
A recent petition by the Karnataka Growers' Federation, a collective of 80,000 small and medium coffee growers, said: "The world consumes million of cups of coffee a day, but the coffee farmer is seeing his yield fall and the cost of production go up. The climate change impacts are so profound."
They want India's environment minister, Jayanthi Natarajan, to remind the world at Durban "that a great biodiversity and livelihoods are at stake" and that India ought to advocate a "fair, ambitious and binding agreement" to reduce global emissions.
Push is gathering many climate stories on his walk. When he was near the village of Shanivarasanthe, it suddenly started pouring down.
"In November, it wasn't meant to rain. It helped me illustrate a point about climate unpredictability," said Push.
In Cherambane village, as I try to keep pace with Push, a group of beautiful Kodava sari-clad women come to welcome him, with a plate of flowers, diya (a lit-lamp) and vermillion.
Then they all start walking with Push.
A car passes by, and I see a young woman in her late-30s get out and join the crowd.
There is laughter as the woman struggles to walk on the steep road with her stilettos. She introduces herself as Sharin Nanjappa, the wife of a coffee grower.
"I had been hearing about sir on our local radio every morning," she says, taking off her shoes as she decides to walk barefoot.
"He has come from London. After all, he is doing this for us. How can we not join him?"
Working at the coffee estate since she got married 18 years ago, Sharin has her own barometer of ecological change.
"This place was full of jungles. Now they are cutting trees to make luxury resorts. More wild animals are out, attacking people. And... honey bees are disappearing," she says.
Her mother-in-law would constantly ask if there was enough "bee-sound in the estate. That buzz has now dipped. And so has the production of honey in this land of spices".
Colour of the cloth
The next stop is a school where Push is to address a huge group of children of coffee workers.
"How many of you know South Africa?" Push asks the kids in Kannada, the local language. All hands go up. "Durban?" Not one hand rose.
"This is what pains me. The place where Mahatma Gandhi set foot first in that country, the place where leaders are going to debate on such a huge crisis for the world, and nobody knows," he tells us.
Push then turns to the kids and asks: "What does a mother do when a child has very high fever?"
"Mother keeps a wet cloth on his burning forehead," a small boy answers.
"Correct. The same way, the Earth is having fever. But all the countries are fighting over what colour the cloth should be."
The kids giggle.
Push, wants to end his "walk for climate justice" on 9 December to coincide with the end of the climate conference.
He is angry that "world leaders are so uncaring when ordinary people care so much".
He and his supporters, following him on Twitter, Facebook and the blog gopushgo.com, are keenly watching Durban for signs of climate policy inaction.
"My walk ends at Mysore. And then I will head to Bangalore. But if things don't work out at Durban, I plan to do a similar walk, backwards."