India-Sri Lanka ferry, the Scotia Prince, impounded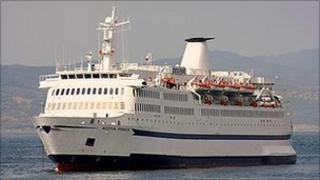 The ferry boat between India and Sri Lanka has been impounded by the commercial high court in Colombo until a dispute involving its Indian caterer is settled, officials say.
The ferry service was resumed in June after a gap of almost 30 years caused by the island's civil war.
The Scotia Prince travels twice a week between Tuticorin in Tamil Nadu and the Sri Lankan capital.
The boat has been anchored in Colombo since the middle of November.
The commercial high court on Monday ordered the retention of Scotia Prince in Colombo port until the settlement of a dispute involving its Indian caterer, the Press Trust of India news agency reported.
The ruling came after a firm based in Chennai (Madras) alleged that the ferry owed it 15m rupees ($293,000; £187,000).
The BBC's Charles Haviland in Colombo says there are reports of doubts over the future of the Scotia Prince, as too few people are using what is a fairly luxurious boat.
Official boycott
The ferry service was launched with much fanfare in June when an Indian passenger vessel carrying VIPs and several hundred others arrived in Colombo from Tuticorin.
The Scotia Prince is a cruise vessel registered in the Bahamas but is now chartered by an Indian company, Flemingo, which also owns a chain of duty-free shops.
It can carry more than 1,000 people and offers restaurants, bars and a casino.
There has been a question mark over the ferry service since it commenced, as it resumed during a time of sour relations between Sri Lanka and the authorities in Tamil Nadu.
Tamil Nadu Chief Minister J Jayalalitha, who was elected this year, wanted the service suspended and state officials did not attend the waving off of the Scotia Prince.
The state assembly has called for economic sanctions against Sri Lanka over "the island's mistreatment of its ethnic Tamil minority".