Bid to restart India parliament after retail row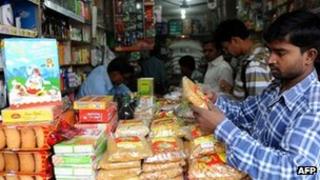 India's government has confirmed to opposition leaders it is suspending controversial retail reform, hoping it can kickstart a parliamentary session that has been deadlocked for two weeks.
Finance Minister Pranab Mukherjee spoke to leaders of the main opposition Bharatiya Janata Party (BJP) and Communists on Monday.
He has called an all-party meeting on Wednesday morning to discuss the issue.
Parliament is scheduled to resume on Wednesday after a four-day break.
The decision to allow foreign chains into India has been fiercely opposed.
Critics say the move will destroy millions of jobs and businesses in the small retail sector.
Supporters say it will increase quality for consumers, reduce waste and improve security for farmers.
The government announced on 24 November it would allow 51% foreign ownership of multi-brand retail stores, allowing groups like Wal-Mart and Tesco to open stores.
Since then, there has been an impasse in parliament, with opposition parties vowing to prevent any legislative work until the decision is reversed.
Anti-corruption bill
On Monday, Mr Mukherjee spoke to BJP leaders LK Advani and Sushma Swaraj and Communist Party of India (Marxist) leader Sitaram Yechury.
The opposition leaders suggested to the minister to call an all-party meeting to make a formal announcement.
It is not yet clear whether the opposition will return to parliament or whether they will insist on a complete U-turn on the decision.
The government is anxious to begin legislative work in a winter session that has seen virtually nothing achieved.
A key anti-corruption bill is one of the main items for discussion.
The government has been criticised for not taking the opposition into its confidence before announcing the retail plan.
Last week, Mamata Banerjee, whose Trinamool Congress party contributes 19 votes to the ruling Congress party-led coalition, said Mr Mukherjee had told her the policy would be put on hold until there was consensus.
Currently, foreign-owned multi-brand retail operators can only sell wholesale in India, not directly to customers.
Opposition leaders say the government has misled the country about the benefits of foreign supermarkets.
They say the multinationals will squeeze India's smaller and poorer traders and drive down prices paid to India's farmers.
The original announcement was welcomed by the Retailers Association of India, which said "consumers will have many more choices".