Dev Anand: Bollywood's first cool hero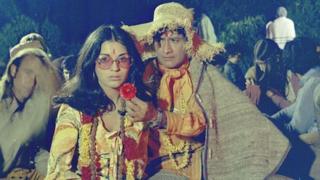 Long before the term Bollywood was coined and Indian films and stars went international, there was Dev Anand.
He was the suave, westernised, Anglophile star, the first really cool hero of the Hindi screen.
His films were modern in their time and the company he started in 1949 with his elder brother Chetan Anand came to be known for their urban themes.
After studying in the prestigious Government College, Lahore, the young Dev Anand came to Bombay in the early 1940s to become a film star.
Bombay was in a ferment; the war had just finished and the British were preparing to leave.
Along with his brother he fell in with a leftist, intellectual crowd, although he was not with them ideologically.
His first job was as a censor in the military post office, but his heart was not in it.
First success
In 1945 he was offered a role in his first film Hum Ek Hain (We Are One) by Prabahat Studios in Poona.
A few other indifferent films followed and it was not until Ziddi in 1948 that he got success. A young singer by the name of Kishore Kumar was also introduced in that film.
A year later Dev Anand launched his production company Navketan and its second film Baazi (The Gamble), directed by newcomer Guru Dutt, became a huge success.
Made in Hollywood noir style, it was a tale of a small time gambler who moves to a big time syndicate controlled by a mysterious boss.
The film was all shadows and light in the contemporary Hollywood style - in my book I have called it the beginning of Bombay Noir, a style of film-making that borrowed elements from abroad but had Indian flourishes like music and songs.
Film after film became successful and along with Raj Kapoor and Dilip Kumar Dev, Anand formed a troika that reigned over the Indian film industry for a decade or more.
When his contemporaries stepped back in the 1960s, he continued, still looking youthful and dashing, wooing girls with a stylish swagger.
Daring project
In 1965, he acted in Guide, based on R K Narayan's novel about a tourist guide who seduces a dancer unhappy with her marriage.
It was a bold subject and no other film maker would have touched it. The English version, written by Pearl S Buck and directed by Tad Danielski was a disaster and a completely new script was written by Anand's younger brother Vijay who found a novel way to show the wife's disillusionment with her husband.
The film was not a big commercial success but is routinely included in any list of 10 best films made in India.
In 1970, Dev Anand directed Hare Rama Hare Krishna, another audacious film about hippies who came to India looking for drugs and nirvana.
It is now a cult film and the song, Dum Maaro Dum (Take a Deep Drag), continues to be a club hit.
By the 1980s trends had changed and Dev Anand had got older, but he continued to make films, casting himself and ever younger females opposite him.
He had a huge fan base, but newer stars had emerged.
He used to say he would make films till his dying days and only a few months ago released Chargesheet, a film that came and went without a murmur.
Personable
Off screen, he was a charming, suave man who answered his own phone and remained unaffected by the trappings of success.
In my series of interviews in 2009, he came across as an intelligent, well-read man with an amazing memory - he corrected me on my research about his earliest films.
He did not believe in fake nostalgia but loved talking about his struggling days. He remained modern in his approach, keeping abreast of current events.
His modernity was reflected in his films, in which not only the idiom and the style was contemporary and stylish, but even the themes were bold.
Most Navketan films were set in cities, exploring the underbelly of the urban experience; the female characters were strong and confident of their sexuality.
It is a tribute to an 88-year-old actor with his last hit three decades behind him that there has been an outpouring of grief on social networking sites and in the media from youngsters who would have heard of him from their parents and even grandparents.
For, in today's parlance, he was a cool dude.
Sidharth Bhatia is the author of Cinema Modern: The Navketan Story, published by HarperCollins in India