London 2012: India 2012 Olympics protest in Bhopal burns Coe effigy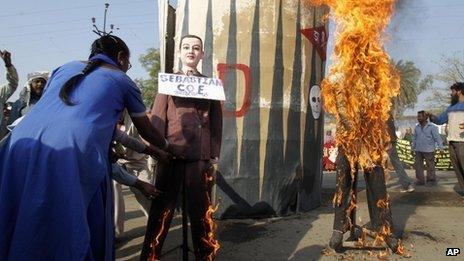 Scores of survivors of the Bhopal gas disaster in India have burned an effigy of London 2012 Olympics organiser Lord Coe in protest at the sponsorship role of Dow Chemical.
The effigy, along with one of a top Indian Olympic official, was burned in Bhopal on the eve of the 27th anniversary of the disaster.
Dow, which has links to the firm behind the leak, will fund a stadium wrap.
Lord Coe has defended Dow's sponsorship role.
He has previously said he is "satisfied that the ownership, operation and the involvement either at the time of the disaster or at the final settlement was not the responsibility of Dow".
The protesters marched to the site of the now-defunct Union Carbide site in Bhopal, carrying banners saying "Down with London Olympics" and "We want justice".
Effigies of Lord Coe and Vijay Kumar Malhotra, the acting president of the Indian Olympic Association (IOA), were burned.
Rights groups, a number of Indian athletes and the chief minister of Madhya Pradesh state, where Bhopal is located, have all called for the sponsorship to be shelved.
Earlier this week, former London mayor Ken Livingstone also urged a rethink on Dow Chemical's role.
Mr Malhotra said this week the issue would be raised with the organisers.
But he also said: "There is no question of India boycotting the London Olympics. We are not boycotting the Olympic Games and that is very clear on the IOA's part."
In 1999, Dow merged with the Union Carbide Corporation, whose subsidiary Union Carbide India ran the Bhopal pesticide plant where the disaster happened.
The gas leak was one of the world's worst industrial disasters.
The Indian government says more than 3,000 people died within days of the leak.
It says that more than 15,000 have died since then.
Campaigners say the death toll is as high as 25,000 and that the effects of the leak continue to this day.
Dow has said in the past that its $470m (£288m) settlement for those affected by the tragedy is fair and final.
The company insists that while the past must never be forgotten, its "position as a Worldwide Olympic Partner" represents its "vision for the future".
Dow has said that although it "never owned nor operated the [Bhopal] plant and the legal claims surrounding the incident were resolved in 1989, long before Dow acquired Union Carbide, we - along with the rest of industry - have learned from this tragic event and have helped to drive global industry performance improvements to ensure that such incidents never happen again".
Related Internet Links
The BBC is not responsible for the content of external sites.