A parliament in limbo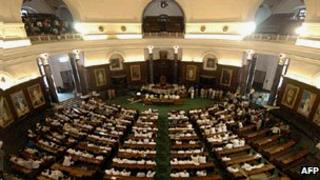 The economy is crawling and inflation is nudging close to double digits. Food prices are going up. Key legislation which could help crack down on corruption needs to be tackled. The demand for a new state of Telangana hangs fire.
Yet the parliament of the world's largest democracy remains in limbo.
With the opposition protesting against retail reforms and forcing adjournments every day, the winter session that began on 22 November has failed to launch. There are 31 bills to be considered and passed, including the key anti-corruption bill.
At this rate, one wonders whether any of this will happen and whether parliament will simply shut down prematurely this winter.
At its current pace, this 15th session of the parliament - which began in 2009 - may be the "most disrupted in 25 years", according to respected watchdog PRS Legislative Research.
Parliament overall has sat for only 72% of its allotted 800 hours. Only 57 of 200 bills planned have been passed so far. Some 17% of the bills passed until the end of the monsoon session this year were debated for less than five minutes. Running parliament, according to one estimate, costs 2.5 million rupees ($49,000) in taxpayer's money every hour. Imagine the losses.
It's a sad reflection on a bicameral parliament that has a reputation for being one of the most vibrant in the world.
It has produced a stupendous amount of legislation - the first 12 parliaments passed nearly 2,500 bills. More than 100,000 questions - in oral and written form - were allowed during the 11th parliament alone, up from less than 50,000 in the first.
But all that seems to be history now. Many are asking how India can be called the world's largest democracy when its parliament, the highest representative body of a billion people, appears to be so dysfunctional.
Critics like lawyer Rajeev Dhavan believe that "it is a disservice to democratic governance to bring parliament to a grinding halt, paralyse its working and hold it to ransom unless demands, however justified, are met".
But a small number of people also believe that, far from being undemocratic, disruptions actually foster democratic values and representation.
Disruption of parliament is not new. Writing in 2006, well-known writer and commentator Khushwant Singh almost predicted its demise. "The more I see of the way our two houses of parliament conduct their 'business', the more I feel that our parliamentary system of governance is on the verge of collapsing," he wrote.
That may not happen soon, but when nothing gets done in the nation's highest body for so long a time, the credibility of the institution itself is hurt. At a time when public faith in most institutions is at an all time low, this is seriously bad news.