Mullaperiyar dam: Kerala leader Chandy meets PM Singh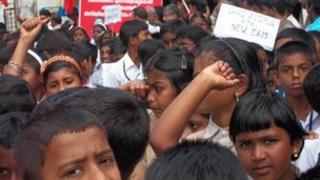 The chief minister of India's southern state of Kerala has met PM Manmohan Singh to try to resolve a damaging row with neighbouring Tamil Nadu over a controversial dam.
Oommen Chandy told Mr Singh that people in Kerala wanted a new dam to replace a 116-year-old structure that would threaten millions of lives if it broke.
Mr Chandy also met Sonia Gandhi, leader of the governing Congress party.
MPs from Tamil Nadu also met the prime minister to argue their case.
Kerala says the British-built Mullaperiyar dam is too old and dilapidated and that it should be decommissioned. Tamil Nadu maintains the dam was repaired in 1979.
Kerala says some three million people living in four districts would be washed away if the dam broke and brought down other dams downstream.
Tamil Nadu insists the dam's walls have been strengthened and that it can hold more water than the current level of 136ft (41m).
Earthquake fears
Tamil Nadu operates the dam, built in 1886, under a 999-year lease agreement to irrigate farmland on its side.
The agreement was signed by the Secretary of Madras State (now Tamil Nadu) under the British Raj and the Maharaja of Travancore.
On Thursday, the prime minister called for restraint from Tamil Nadu and Kerala on the issue.
The two states should not do anything that would create undue alarm, he said.
He also sent a letter to Tamil Nadu Chief Minister J Jayalalitha "expressing hope that the issue will be resolved through dialogue between the two states".
Also on Thursday, Mr Chandy wrote a letter to Ms Jayalalitha, asking her to give up her tough stance and reduce the water level in the dam "for the safety of our people".
In her reply, Ms Jayalalitha referred to "unwarranted provocations from across the border" and "the fear psychosis generated in Kerala".
Kerala has seen protests triggered by recent low-intensity earthquakes that prompted scientists to say the dam could not withstand more-intensive tremors.
The two states are also fighting a legal battle in the Supreme Court.
A panel of experts appointed by the Supreme Court is expected to give its opinion soon and the court is scheduled to hear the dispute in February.