India 'caste meal' activist beaten at Karnataka temple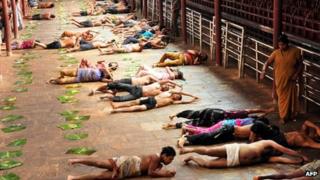 An activist in India has been beaten up for protesting about a ritual in which lower-caste Indians roll in the food leftovers of those of a higher caste.
KS Shivaramu was chased in the street and beaten with sticks outside the Subrahmanya temple in the southern state of Karnataka.
Hundreds of people had rolled on the floor at the "made snana" ceremony at the temple.
Caste discrimination is illegal in India but bias remains in many areas.
'Superstitious beliefs'
Mr Shivaramu was speaking to the media outside the temple on Wednesday after meeting officials to submit a petition demanding an end to what he called the "inhuman" ceremony.
After he had finished, a group of people began to argue with him and then chased him along the street hitting him with sticks. Mr Shivaramu was taken to hospital.
The ceremony involves rolling on plantain leaves that contain the leftovers of food served to high-caste Brahmins.
The ritual is performed annually during the Champa Shashti festival.
The local Malekudiya tribe believes that it will cure skin diseases.
Mr Shivaramu told the Hindu newspaper that the ceremony "perpetuates superstitious beliefs", adding: "The practice of serving food inside the temple only for a particular caste should be stopped."
Local media say officials are reluctant to enforce a ban given the strength of tribal support.