India traders strike against retail reform moves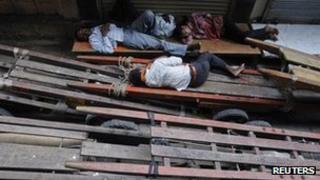 Traders in India are observing a day-long strike in protest at the decision by the government to open the retail market to global supermarket chains.
There have been closures and protests across India although in some cities the strike was only partially observed.
Traders say that the move to allow 51% foreign ownership of multi-brand stores will damage small retailers.
Opposition parties have demanded the move be scrapped. The government says it will benefit farmers and consumers.
'Nightmare'
Thursday's strike was called by the Confederation of All India Traders.
A senior official of the group, Praveen Khandelwal, said more than 10,000 trade organisations across India were expected to participate in the strike.
Many wholesale and retail markets have been affected, although in Delhi, Mumbai and other major cities many shops remained open or closed for just a few hours.
The main opposition Bharatiya Janata Party (BJP) organised marches and the burning of effigies of Prime Minister Manmohan Singh in about 20 locations.
More than 6,000 traders were said to be observing the strike in Shimla, the capital of Himachal Pradesh.
Police clashed with protesters in Lucknow in Uttar Pradesh, markets were deserted in Agra and in Chhattisgarh the shutdown also affected garages and schools.
The response was reported to be patchy in Punjab, Bihar, Haryana and Chandigarh.
Mr Khandelwal said the government's move would be a "nightmare" for small retailers.
He said: "The foreign retailers can open in big cities, but they will source from markets across rural India and small towns. With their money and power, over time they can corner the supply of produce and dominate the outsourcing side."
Viren Shah, of the Retail Traders Welfare Association, told the BBC's Newshour: "We have been doing this business for 50 to 70 years... we fear that our business will be wiped out because of these big giants and we do not have any protection from our government."
Parliament has become paralysed over the issue, with forced adjournments almost daily. Another adjournment was called on Thursday.
Opposition politicians say they will not allow parliament to function until the government rescinds the retail decision.
Although the decision on retail reform is an executive one that requires no parliamentary approval, opponents of the move have been pushing for an "adjournment motion" in parliament, which would spark a debate and vote on the issue.
There is growing anger in India over the paralysis that has gripped parliament since Congress came to power in 2009.
The independent PRS Legislative Research body, quoted by Reuters, says of 200 bills planned only 57 have been passed.
In an editorial, the Times of India wrote: "The purpose of parliamentary democracy is to provide a forum for reasoned deliberation. By wrecking this very platform, MPs can neither resolve contentious issues nor do their jobs as lawmakers."
The government insists its retail reform will create tens of millions of jobs.
Allowing 51% foreign direct investment (FDI) in multi-brand retail stores will open up opportunities for groups such as Tesco and Wal-Mart to open stores in India.
Such operators can currently only sell wholesale in India and not directly to customers.