Naga tribe blockade of India's Manipur state lifted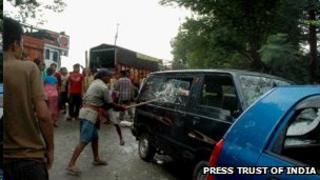 A three-month blockade by a tribal group of roads into the Indian state of Manipur has been lifted ahead of Prime Minister Manmohan Singh's trip there.
The Nagas had blocked two key highways linking Manipur with the rest of India in protest against the demand for a new district by the rival Kuki tribe.
The Kukis called off their own 92-day blockade earlier this month after the government agreed to their demand.
The blockades led to shortages of food, fuel and medical supplies.
A spokesman for the United Naga Council said they were "temporarily" lifting the blockade early on Tuesday, ahead of Mr Singh's visit to Manipur next week.
The group said it had taken the decision as India's Home Minister P Chidambaram assured them that the state government would not take a decision on creating a new district without first consulting the Naga tribe.
Kuki tribal groups began the first blockade of two highways in August over their demand for a new district, which they believe should be called Sadar Hills and carved out of the Senapati district, which is dominated by the Naga tribal community.
The Kukis, one of the major tribes in Manipur, have previously clashed with other Indian separatist groups from the Naga tribe over demands for a homeland.
Later, the rival Naga tribal groups began a "counter blockade" on the same roads to protest against the demand.
Hundreds of people died in fighting between the Naga and Kuki tribes in Manipur during the 1990s.