India-Pakistan tennis pair Bopanna and Qureshi split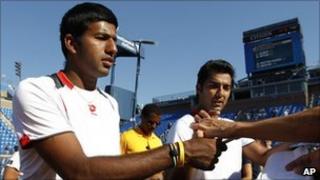 Indian tennis player Rohan Bopanna and Pakistan's Aisam-ul-Haq Qureshi have ended their doubles partnership.
The partnership was seen as a symbol of friendship between rival nations.
Bopanna confirmed to the Indian Express newspaper that he would be teaming up with Indian veteran Mahesh Bhupathi for the 2012 season.
Qureshi also confirmed the split to the Press Trust of India (PTI). The duo lost all three World Tour Finals matches in London recently.
Olympic goals
The men, who met when they were 16 and are now 30, began playing as partners in 2003.
"As the season has ended now, I can confirm that I am playing with Mahesh [Bhupathi] in 2012," Bopanna told Indian Express.
He declined to give a reason for the split.
"Who I want to play with is my decision... I did have a successful year with Aisam [Qureshi] but now I am starting a new year with Mahesh, and it's as simple as that."
Qureshi told the Press Trust of India that he would partner Dutchman Jean-Julien Rojer for the Australian Open.
"We want to cement our places in the Olympic Games and have decided to play with new partners in the doubles," he said.
At last year's US Open, Qureshi said: "It is the beauty of sport that it's above culture, politics and religion.
"So by pairing together through our tennis, we are trying to give a message of peace to people of India and Pakistan."
At Wimbledon, the pair wore T-shirts and sweatshirts with the message: "Stop War, Start Tennis".