Bounty to sterilise Himachal Pradesh monkeys criticised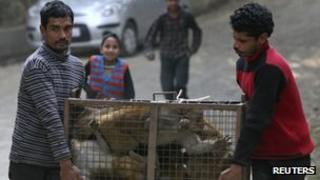 Animal rights activists have criticised a bounty of 500 rupees ($9.60) a head put on the capture of monkeys in India's Himachal Pradesh state.
They say allowing members of the public to capture monkeys and hand them over for sterilisation could be "traumatic".
Officials hope to cut monkey numbers by capturing and sterilising 200,000 in the next seven months.
The state says monkeys are a menace, destroying crops and attacking tourists and locals in holiday destinations.
But Rajeshwar Negi, a prominent animal rights activist, told the BBC the bounty plan was "not a good idea" and that capturing monkeys should be left to "experts who are far better equipped".
He said: "Monkeys will be captured in a crude manner. This can be very traumatic for the animals... many can get hurt in the process."
Hanuman's state
The state's chief minister and his cabinet colleagues, along with top officials, met recently and came up with the sterilisation plan.
A total of 25 sterilisation centres have been set a target of treating 200,000 monkeys by June next year and then returning them to the wild.
The capturing will not be restricted to forest guards. Anyone can join in, handing over captured monkeys to the authorities to pocket the bounty.
According to the latest count there are some 300,000 monkeys, mainly the red-bottomed, and the larger but more docile black-faced langurs.
The state capital, Shimla, has been a haven for monkeys ever since the town was the summer capital of the British Raj and even inspired the young Rudyard Kipling to write about his "Bandar-log" monkeys in The Jungle Book.
The state's Communist party leader Kuldeep Tanwar told the BBC: "Farmers in many parts of the state have been forced to abandon farming due to the rising incidents of monkeys destroying crops."
Farmers were issued licences to kill monkeys a couple of years ago but animal rights activists and right-wing groups objected strongly, as Shimla is considered the abode of Hanuman, the monkey god.
A year ago a huge statue of Hanuman was unveiled at the highest point of Shimla.