India retail reforms a half measure?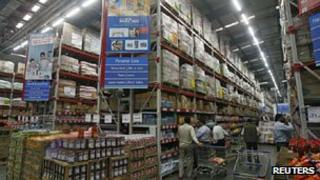 India has taken another step to completely open up its $500bn retail market to global supermarket chains.
But the decision to allow 51% foreign ownership in multi-brand and 100% in single-brand retail has come with several riders.
They include a minimum investment of $100m by a chain over five years, and a commitment to purchase 30% of their goods from small and medium-sized firms.
Also, the supermarkets are to be located in only 53 Indian cities, with a population of over a million each.
Thursday's decision, therefore, implies that only a few international firms - maybe five or 10, including Wal-Mart, Metro, Tesco and Carrefour - would benefit from it.
Most of the other foreign players would be unable to take advantage of the new policy for several reasons.
Economies of scale
Only a few supermarket chains can afford the minimum investment, or would like to do so, say retail consultants.
Speciality chains, which sell only either jewellery, electronics or clothing products, are not willing to invest more than $10m-£20m to open three to five shops in the five metros, according to Technopak, the retail consultancy firm.
Additional limits - minimum procurement rules - will further dissuade the smaller chains, as they will not be able to reap the full advantage of the economies of scale.
In comparison, the large retailers can fine-tune their business strategies to operate within these restrictions.
Kishore Biyani, the head of India's Future Group, which owns several retail chains in India, predicts that the new moves may lead to additional inflows of $8bn over the next five years.
Others foreign groups are more optimistic, and feel the figure will be four times higher.
However, since the foreigners can open retail stores only in the big Indian cities, they will need to scale down their plans.
If one optimistically assumes that they will own 600 new stores over the next five years, their investments will be $6bn (at an average of $10m per store).
Bharti Wal-Mart, a joint venture, admits India is not likely to be flooded with foreign inflows.
The immediate deals may include buyouts of 51% stakes by foreign firms in existing Indian chains such as Bharti, Trent, Future Group and Pantaloons.
The real retail transformation - in the form of lower retail prices, higher remuneration to farmers and the decimation of middlemen - will possibly happen in five to 10 years.
Despite the new policy, other constraints, mostly political, remain.
Several states, such as West Bengal and Tamil Nadu, both of which provide coalition partners for the ruling Congress-led government, have voiced their opposition to the entry of the foreign giants.
As many clearances to set up stores require permissions at the state level, a ban could be imposed by a few federal authorities.
According to newspaper reports, Finance Minister Pranab Mukherjee told West Bengal's ruling regime and coalition ally, the Trinamool Congress, that while it had the right to stop foreign investments in the state it could not force the government to impose the same decision across India.
The Indian government has to take other steps to revolutionise the retail sector.
It has to allow foreign-owned outlets to be set up in small towns and rural areas. It has to remove the investment and outsourcing controls slowly in the near future.
So Thursday's decision appears a deliberate half-measure to move in the right direction.
Although it partially seeks to silence critics who believe that the government is caught in some sort of a policy paralysis, it still does not translate into real reforms that will benefit farmers and consumers.
Business analyst Alam Srinivas is an editorial consultant with Open Magazine, and author of The Indian Consumer, a book on the middle class.