India state Tamil Nadu bans controversial Dam999 film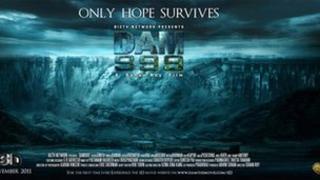 The Film Exhibitor's Association in India's Tamil Nadu state has banned a new film amid an ongoing row with neighbouring Kerala over a dam.
Dam999 revolves around a dilapidated dam in India which was built in 1895.
The filmmakers say it is inspired by the Banqiao dam disaster in China in 1975 which killed 250,000 people.
Tamil Nadu is involved in a spat with Kerala over the Mullaperiyar dam on the Periyar river and says some scenes in the film depict related "issues".
The film releases across India on Friday. Directed by Sohan Roy, it premiered at the Cannes festival in May.
"The English-language film Dam999 was originally scheduled to be released on Friday in the state dubbed in Tamil as Anai999," the Tamil Nadu Film Exhibitor's Association said in a press release sent to the BBC.
"But various organisations have requested our association to ban the movie because it contains scenes depicting the ongoing issue of the Mullaperiyar dam between Tamil Nadu and Kerala and also because the film shows the dam getting destroyed.
"It has been decided that the dubbed movie Dam999 will not be screened anywhere in Tamil Nadu," the statement said.
Although Mullaiperiyaru dam is located in Kerala, it is operated by the government of Tamil Nadu which signed a long-term lease with the former British government.
Kerala now says the dam is too old and dilapidated and poses immense danger to millions of people living in the region and that it needs to be destroyed and rebuilt - a move opposed by Tamil Nadu.
The two states have been fighting a long legal battle over the issue.