Mumbai's Juhu beach and the holy man preaching peace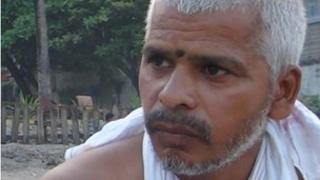 The BBC's Zubair Ahmed meets the man who has spent the past 10 years trying to spread peace and harmony on Mumbai's popular Juhu beach.
He is fast becoming a known face in Mumbai. Leading Bollywood stars, such as Akshay Kumar and Hrithik Roshan, are among his hundreds of thousands of well-wishers.
Krishna Das is a man with a mission - to spread the message of peace and love to a city where religious strife is common and peace of mind is hard to find. It's a tall order.
He's a small man but with big self-imposed responsibility.
Mr Das, however, is undeterred. "People greet me and say I am doing the right thing."
He feels encouraged by the number of people from different faiths telling him his mission will be accomplished.
"Even burka-clad Muslim women come and greet me with a smile and say I have their best wishes," says Mr Das.
Beach meditation
For a man who's ostensibly jobless, Mr Das, 50, is quite busy.
His day begins before the first rays of the sun break out.
We catch up with him at Juhu Beach at 06:00.
The beach is getting crowded - health conscious men and women are jogging along the sandy coastline, members of a fitness club spread their mats and flex their muscles. Older men stroll along.
Krishna Das stands out in the morning crowd. His eyes are closed, his folded hands extended just above his head.
He is a picture of serenity in meditation. He is the only one who seems to be listening to the soothing sound of the waves rising in the Arabian Sea.
He sits in front of a row of placards spread over one kilometre along the coast. He sets them up every morning before the first jogger arrives.
Each placard has a message of peace and love. The first one sums up the content of the rest: "Follow your religion. Love everybody."
Mr Das once lived as a sadhu or holy man in caves close to the Himalayas.
He urges people not to abandon their faith. "All religions give the message of love and peace. Either we are not listening or the messengers are not delivering. That's why I have undertaken this difficult task."
Krishna Das began his peace initiative in Mumbai three years ago. "It goes back 10 years when I began coming to the Juhu beach and wrote these messages on plain paper and left them on the beach for people to read. For the last three years I have been putting up placards along the beach over one kilometre."
Mr Das lacked peace of mind himself when he was growing up in his home town in Madhya Pradesh state.
"I saw no peace at home. I escaped to the Himalayas in search of peace."
Mr Das became a sadhu living with no means and possession. "I gave up my job, my clothes and all worldly possessions. I ate cow dung, lived in caves as I needed nothing."
Mr Das decided to spread peace after he attended a religious conference attended by many hermits and holy men, including the Dalai Lama.
"There, everyone talked about their religion's message of love and peace. But I realised it was just talk. That's when I decided to devote my life to peace."
Not everyone is convinced he can make a difference.
"The man's intentions are good. But once people leave the beach or any other place he stands at they forget his message," says Sneha Pavekar, who has seen him at Mumbai's Juhu circle traffic junction, for the past three years.
"I always find him at the traffic junction holding aloft a placard and smiling. He never wavers. His efforts are commendable but they are futile because people don't remember his message once they go past him."
'Bollywood following'
But the man himself is confident his efforts are making an impact.
"Look at the posters, films and TV serials made in the last couple of years and you will notice how religion now plays its part in these creative efforts in a positive manner," says Mr Das.
To emphasise his point he says he has a big following in Bollywood.
"Akshay Kumar is a big star in India. Whenever he goes past me and finds me standing here on this traffic junction he shakes hands with me. Hrithik Roshan, Govinda, Kabir Bedi and many others greet me and offer their best wishes."
Whether his message is making a difference or not is hard to say. But one thing is certain, he is building a lot of goodwill among the residents in Mumbai.