Patna university orders probe into 'faded' gold medal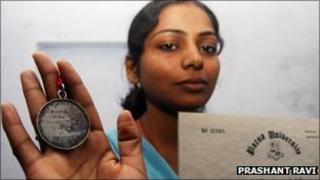 Patna University has ordered an investigation after a gold medal awarded to a leading science student was found to have discoloured, faded and "looked like iron".
The prestigious university ordered the probe after ex-student Ankita Kumari complained to Bihar Chief Minister Nitish Kumar.
Ms Kumari, now 28, said she felt embarrassed to show it.
She said a goldsmith's shop had confirmed it was not gold.
The university's vice-chancellor said it was common practice for the medals to be gold-plated silver but he could not give a value.
But he said the medal should not fade or get discolored.
'Playing with sentiments'
Ankita Kumari received the medal from former President APJ Abdul Kalam at a convocation ceremony in December 2005.
She was the top MSc [Botany] student in 2004 at the prestigious Science College of the university.
Patna University, the seventh oldest in India, has previously been dubbed "the Oxford of the east".
"It was the most cherished moment for me. I was feeling on top of the world," Ms Kumari told the BBC from her home in Muzaffarpur, 80km (50 miles) north of Patna.
But when she took another look at the medal in a cupboard two years ago it had lost all its glitter.
She said she approached several university professors but "no proper response came and nothing happened".
"It was a huge embarrassment for us whenever we showed the medal to anyone saying she was a gold medallist," said her father, Ramji Prasad Gupta.
A frustrated Ms Kumari approached Chief Minister Kumar on one of his Sewa Yatra (public service journeys).
He directed government officials to investigate.
"The university officials should not play with the sentiments of the students," Mr Kumar said.
Vice Chancellor Shambhu Nath Singh tasked a three-member committee to submit a report in a month.
"We've taken this issue very seriously. After all, it's a matter of institutional pride and reputation. How it happened must come out so that a set standard is followed in the future," Mr Singh told the BBC.
All gold medals awarded from 2003 to 2010 will be checked.
Mr Singh said none of the other 58 students awarded gold medals with Ms Kumari had complained but they would be investigated.
Ms Kumari said: "If it is a gold medal, it must be gold."