India shares fall to two-year low on Sensex index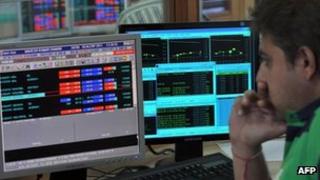 Indian stocks have fallen sharply by 365.45 points to a two-year low, registering a drop of 2.27%.
The Sensex initially plunged below the 15,500-mark with investors wary due to domestic concerns about high inflation, slowing growth and a weakening rupee.
Indian equities are among the worst performing this year.
On Tuesday, the rupee hit an all-time low against the US dollar, with firms buying the greenback amid continuing fear about the global crisis.
The rupee plunged to 52.73 to the dollar, raising new inflation concerns linked to India's need to import oil.
'Cumulative effects'
"The market's in a disaster zone," news agency AFP quoted Hemen Kapadia, chief executive of Mumbai-based investment advisory firm Chart Pundit, as saying.
"There is no second-round of reform and rising interest rates and slowing growth are pulling the market down. The government has failed on all fronts," he said.
The closing Sensex mark was the worst since 3 November 2009.
Banking, oil and IT sectors were badly hit.
India's Finance Minister Pranab Mukherjee said: "Markets have crashed because of the continuous withdrawal of funds by FIIs (foreign institutional investors).
"There is still uncertainty prevailing in the eurozone. The rupee's depreciation also has an adverse impact. All these cumulative effects are there."
The rupee gained a little on the dollar on Wednesday but is still weak.