India spends millions on Mumbai gunman Ajmal Qasab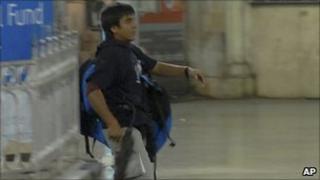 India has spent $3m (£2m) in the past three years on Mohammad Ajmal Amir Qasab, the sole surviving gunman from the 2008 Mumbai (Bombay) attacks.
The special cell in Mumbai's Arthur Road jail, where Qasab is lodged, cost the state $1m to construct.
And another $2m was spent between March 2009 and September 2010 on security. The total does not include legal fees.
Qasab was sentenced to death after a trial in May last year. His appeal is pending in the Supreme Court.
The Mumbai attack claimed 165 lives. Nine gunmen were also killed.
Qasab was found guilty of waging war against India, multiple murder and conspiracy.
Federal request
"Besides the money that was spent on constructing the special cell at the Arthur Road prison, 26,953 rupees ($517) were spent on taking care of his medical needs," Press Trust of India news agency quoted Medha Gadgil, home secretary of the western state of Maharashtra, as saying. Mumbai is the capital of Maharashtra.
Ms Gadgil denied media reports that Qasab - who is called the "butcher of Mumbai" by many in India - was being "fattened on biriyani", saying a mere 52 cents was spent on his daily food.
Most of the cost has been on providing security to India's most high-profile prisoner.
Ms Gadgil said the state authorities had received a bill of $2m from the Indo-Tibetan Border Police (ITBP), covering a period of 18 months.
The state government has written to the federal authorities in Delhi, saying that Qasab's security was not Maharashtra's concern alone, she said.
"The state government has written to the centre asking it to consider waiving the amount. We have not received any communication so far. The issue remains unresolved," she said.
The 60-hour siege which began on 26 November 2008 targeted luxury hotels, Mumbai's main railway station and a Jewish cultural centre.
Qasab and an accomplice carried out the assault on the station, killing 52 people.
India blamed Pakistan-based militant group Lashkar-e-Taiba for the attacks.
After initial denials, Pakistan acknowledged that the assault had been partially planned on its territory and that Qasab was a Pakistani citizen.