India: Delhi eunuch fire death toll increases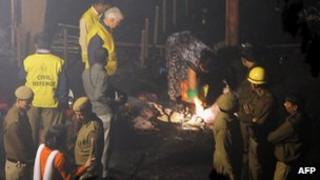 The number of people killed by a fire at a gathering of eunuchs in the Indian capital, Delhi, has risen to 16, say reports.
Two eunuchs, named as Nazira Nayak and Sonia, who had both suffered severe burns, were reported to have died in hospital on Tuesday.
The fire broke out on Sunday evening as a three-day convention of eunuchs was about to end.
Police have detained two people in the connection with the fire.
One of them was responsible for putting up the makeshift tent under which the eunuchs had gathered, and the other was an electrician, police said.
It is thought that a short circuit in the electricity line sparked off the fire which then spread to the tent.
Hundreds of eunuchs from all over India and neighbouring Bangladesh and Nepal were attending the convention in Nand Nagri, east Delhi, held once every five years.
The Delhi authorities are investigating allegations that the organisers had not sought permission from the fire department.