India telecoms trial moves to Tihar jail in Delhi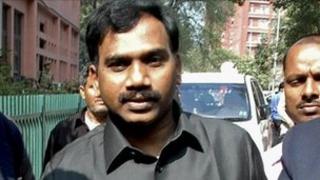 The trial in India's telecoms scandal will now be held inside Delhi's Tihar jail, where all the accused are lodged, the trial court has announced.
Judge OP Saini said the order to shift the venue had come from the Delhi High Court but did not give any reason.
The scandal involves the alleged selling of mobile phone frequency licences for a fraction of their value.
Former telecoms minister A Raja and MP Kanimozhi are among 14 people who have been charged.
Several government officials and executives from top telecoms firms are also on trial. All deny any wrongdoing.
Auditors allege the mis-selling of the licences cost the exchequer nearly $40bn (£24.5bn) in lost revenue.
The trial has so far been held in a special CBI court in the Patiala House court complex in the Indian capital.
It is expected to be long and complex and some 150 witnesses are expected to appear.
Although no official reason has been given for the shift, a lawyer said it was due to security reasons.
Both prosecuting and defence lawyers have protested against the order, saying it will cause confusion.
Some of the defence lawyers said they would challenge the order in court.