India leader LK Advani ends anti-graft tour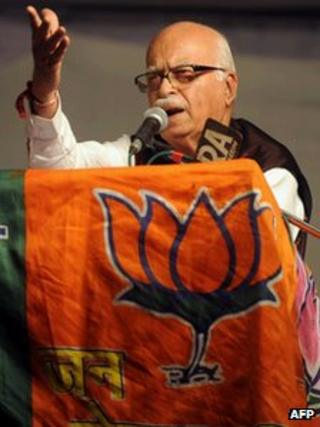 India's main opposition leader LK Advani has ended his 38-day journey across the country as part of a campaign to protest against corruption.
He told a rally in Delhi on Sunday that his party MPs and allies would soon declare that "they do not own any bank accounts or assets abroad".
The 83-year-old leader of the Bharatiya Janata Party (BJP) covered a large swathe of India during his tour.
Mr Advani met supporters and held public meetings during his journey.
He began his Jan Chetna Yatra (public awareness tour) from the northern state of Bihar on 11 October.
The tour concluded at a rally in Delhi's Ramlila Maidan grounds on Sunday.
Mr Advani said he had covered 7,600km (4,722 miles) during his campaign across two dozen states.
'Political will'
"All MPs of the NDA [National Democratic Alliance which comprises the BJP and its political allies] would, in the first week of the parliament session, solemnly declare that they do not own directly or indirectly bank accounts or assets outside India," Mr Advani said.
He criticised the government for lacking in the political will to deal with the issue of "black money".
"I feel if there is corruption in the country, it is not because there is no Lokpal [ombudsman], but because there is no political will," The Hindu newspaper quoted Mr Advani as saying.
"The corruption is not because of the absence of laws, but because of the local of political will," he said.
India's Congress party-led government has been hit by a series of corruption allegations in recent months, and is under pressure to come up with strong anti-corruption laws.
There has been a rise in public anger and an anti-graft hunger-strike by social activist Anna Hazare in August saw the government on the backfoot.
Mr Advani has undertaken such campaigns in the past.
In 1990, he travelled across India, whipping up support for a campaign to build a temple on the site of the 16th century Babri mosque in Ayodhya.
That led to the destruction of the mosque by Hindu hardliners, followed by some of India's worst religious violence since partition.